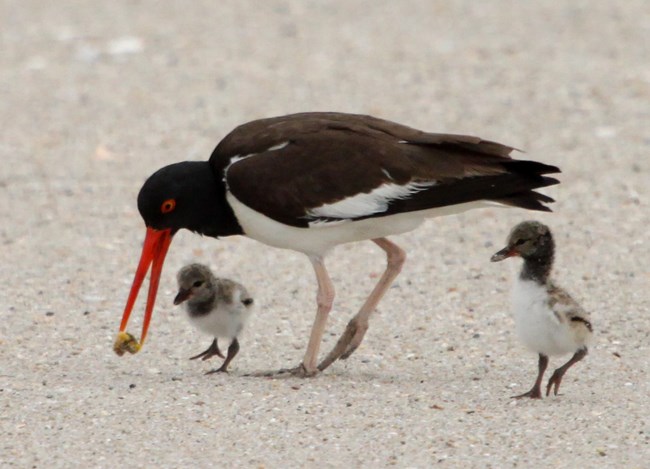 It's a foggy morning in Boston Harbor. On the far flung island of Outer Brewster, a meandering American Oystercatcher has come upon its namesake favorite meal - an oyster: but how to break into the tightly sealed shell that protects the animal's soft, juicy (and delicious) inner bits? Using a skill that has been honed over thousands of meals, the bird deftly grasps the bivalve in its long orange bill and takes it to a rocky spot high above the surf. Expertly maneuvering the shell, it slams the oyster against the rock right at the point where the adductor muscle is protected inside. After a few blows the shells cracks open and the Oystercatcher quickly severs the muscle with its knife-like bill. The two halves fall apart, acting as sort-of serving trays for the oyster's soft parts - which are eagerly consumed.
What is it?
The American Oystercatcher is a large, unmistakable shorebird found along coastal salt marshes and sand beaches. It is one of the few birds that solely specializes on oysters, clams, mussels, and other shellfish living in saltwater. Two races are found in North America: an eastern race along the Atlantic coast from Massachusetts south, and one along the Pacific coast. Historically, the eastern population of birds was abundant until the late 1800's when they are thought to have been extirpated (made locally extinct) in much of the region as a result of over-zealous market hunting and egg collecting. After the passage of the Migratory Bird Treaty Act of 1918, their numbers have since steadily increased, but numerous factors including habitat loss from coastal development, human disturbance, and predation have kept their population levels relatively low.
Oystercatchers use their long, knife-like bills to catch shellfish. They either employ the "hammering" technique described above, or jab their bill into the open shell of an unsuspecting mollusk and sever the strong muscle that would otherwise clamp the two halves shut. Sometimes the prey gets the better of the predator, however. If a mussel is firmly attached to a rocky shoreline and it clamps down on the bird's bill before
it can sever the muscle, Oystercatchers may be overtaken by rising tide-waters and drown.
Oystercatchers that breed in the Boston Harbor Islands are migratory. Many of them utilize what's known as "leapfrog" migration, bypassing other suitable Atlantic coast sites
to overwinter on Florida's Northwest coast. This part of Florida hosts 10% to 15% of the total US population of Oystercatchers during winter, but almost half (~40%) of the
Northeast's breeding population.