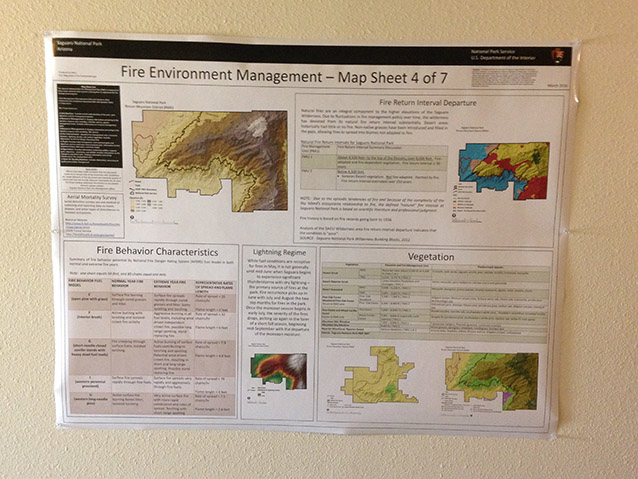 Every area with burnable vegetation must have an approved Fire Management Plan (FMP) based on the area's approved land management plan. It plays an important role in providing for firefighter and public safety, identifies acceptable fire management strategies and tactics, addresses values to be protected and public health issues, is consistent with resource management objectives and activities of the area, and complies with environmental laws and regulations.
Previous versions of the park's FMP have been in the traditional format (one comprehensive document, several hundred pages long). The new SFMP format is much simpler and easier to use. 
Technological advancements allow for more efficient and effective fire management planning through varied representations of the information. The text-based component of the SFMP is significantly shorter than the previous document. The text portion of the Saguaro National Park Fire Management Plan (May 10, 2016) is available on the park's fire management website at https://www.nps.gov/sagu/learn/nature/wildlandfire.htm.
Much of the information from the previous version of the FMP is now available on mapsheets. The mapsheets are a collection of succinct text, geospatial information, tables and other elements that can be referenced quickly and provide intuitive access to critical fire management information. The mapsheets will be posted in the hall of the park's fire management office for easy access.
A key advantage of the new format is critical information is more readily accessible to park and fire managers, fire personnel, incident management teams, cooperators and the public. Geospatially represented information can also be integrated with other efforts such as the Wildland Fire Decision Support System (WFDSS).
"The new format will improve our ability to be able to quickly refer to key information," says John Thornburg, the Interagency Fire Management Officer for Saguaro National Park and the Santa Catalina Ranger District of the Coronado National Forest. "Being able to refer to the mapsheets will save us time, improve our communication with partners and stakeholders and help us get buy–in, because they can see it all on a map," he added.
The SFMP format also provides the flexibility to adapt to shifting agency fire program priorities, organizations, and technology. Routine updates to the SFMP are now easier to make as conditions change (for example, as fuels projects are completed and/or wildfires occur). Updates can also include real-time incident specific information.   Fire managers can simply update appendices to the document and/or update on mapsheets without making any changes to the approved document.
Contact: John Thornburg, Interagency Fire Management Officer for Saguaro National Park and the Santa Catalina Ranger District of the Coronado National Forest, (520) 733-5130