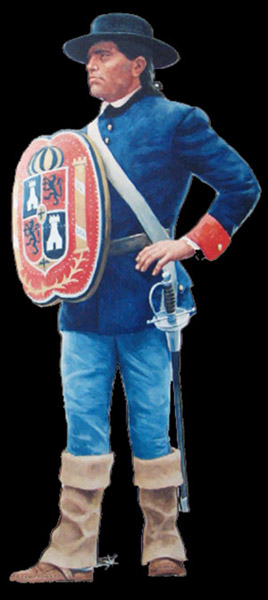 This is an essay from the Spanish Missions of the Southwest Travel Itinerary   
The history of the United States is a marvelous story about roads and frontiers. One of the great chapters of that story is about the Spanish missions that extended from Florida to California. The driving forces and significance of that undertaking is better understood in the context of the Hispanic presence in North America that began in the first years of the sixteenth century. The missionary pathways and the churches gain in significance when the visitor places them in a culture and a time that form a part of the American heritage. The dreams, the ambition, and the spirit of adventure—all of them very human passions—are evident in the origins of the very early history of the United States. The search for the fountain of eternal youth took Juan Ponce de León to the coasts of Florida in 1513. Over a period of four years, the Hernando de Soto Expedition (1539-1543) traversed a great part of present southeastern United States. Meanwhile, the Francisco Vázquez de Coronado Expedition (1540-1542) explored a route into the heart of New Mexico. Coronado's men discovered the Grand Canyon in present Arizona and reached present day Kansas. Within a few years, new trails into the interior of North America had been opened. Soon after, the route from Mexico City to Santa Fe in New Mexico would be known as the Camino Real de Tierra Adentro (Royal Road of the Interior).
Ponce de Leon did not find the miraculous fountain, which, indeed, had never existed. Soto never knew the glory of being Florida's conquistador, but left a historical mark as the first European who navigated the lower Mississippi River. Dead from a fever, his body, wrapped and laid into a hollowed log made by his men, was submerged in the river. Neither did Coronado find the Seven Cities of Cibola nor the Kingdom of Quivira. He did not find the riches he had hoped for, but only hardworking Indians who lived by farming and resided in adobe houses of different levels. Since then, they are known as Pueblo Indians owing to the similarity of their homes to those in the villages of Spain. All had been a tale, influenced by the feverish imagination of Fray Marcos de Niza. This friar had echoed the vague notices that Alvar Nuñez Cabeza de Vaca brought to Mexico after his shipwreck of 1528 along the coast of Texas. The great wayfarer through North America lived among the natives for nearly seven years. Resolving to return to Mexico with three of his luckless friends, he finally undertook the trek through unknown lands until after many months, he met other Spaniards in the north of the present Mexican state of Sinaloa.