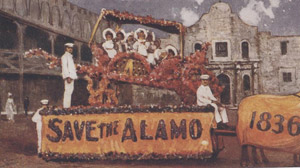 This is an essay from the Spanish Missions of the Southwest Travel Itinerary  
Missions featured in this travel itinerary are rich cultural landscapes that span the spectrum of mission development from isolated and quickly abandoned chapels to comprehensive, self-sustaining communities covering hundreds of acres. The Spanish government and religious orders established missions to convert existing populations to Roman Catholicism. Missions were located adjacent to established native settlements that also provided labor for mission construction and maintenance. Some mission communities were near dispersed agrarian communities, while others were in the center of the most densely formed native settlements. At the core of every mission community, regardless of its size, was a church building as its spiritual center. Often beginning as no more than a temporary shelter from which to celebrate mass, the church building and later support structures evolved over time as the population of converts grew and resources for construction became available.
The Architecture of Mission Communities
The architectural styles of Spanish Colonial missions were influenced by those popular in Spain and Europe at that time –Gothic, Baroque, Plateresque, Mudéjar, Churrigueresque, Neoclassicism –but their application in the Americas cannot be fit easily into any specific stylistic category. The local context of available materials, labor, and technical expertise challenged the Spanish frontier builders to find the expertise to interpret their foreign cultural expression. As a result, mission architecture evolved into a fusion of imported and indigenous expressions that are unique to each mission and best understood through the analysis of various architectural elements.