By Aviation: Sand Dunes to Sonic Booms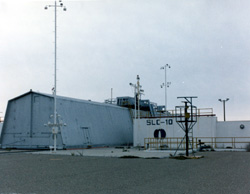 The Space Launch Complex 10 (SLC-10) is part of the Headquarters Air Force Systems Command Western Space and Missile Center (WSMC) at Vandenberg Air Force Base in Lompoc, California. Built in 1958 for the U.S. Air Force's Intermediate Range Ballistic Missile (IRBM) Testing Program, this complex was adapted for space flight purposes. SLC-10 is comprised of a blockhouse and two launch pads (east and west) and was one of two launch pads built by the Douglas Aircraft Company to support combat training launches of the SM-75 Thor IRBM. Vandenberg Air Force Base belongs to Strategic Air Command (SAC).
The SLC-10 blockhouse, with its supporting electrical equipment, is intact. The blockhouse was used to control launches from both the east and west pads. The blockhouse is a self-contained reinforced concrete building capable of withstanding the dangers of catastrophic vehicle failures at lift-off. The missiles launched from the pad were liquid fueled. At SLC-10W, the fuel and liquid oxygen storage tanks, four nitrogen storage tanks, two high pressure storage tanks, and their associated pipes are still intact and in good condition. The launch vehicle erecting-launching mount and the launch shelter (prefabricated building) are still in place and in good condition. SLC-10W is the best surviving example of a launch complex built in the 1950s at the beginning of the American effort to explore space.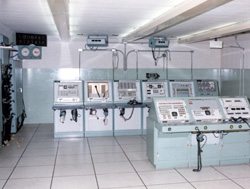 The first launch from SLC-10E occurred on June 16, 1959, by the Royal Air Force of the United Kingdom, as the Thor missiles had been developed in England. In order to support the nuclear testing project at Johnston Island, the entire launch complex was dismantled and transported to that remote Pacific atoll between January and March 1962. The desire of Headquarters USAF to proceed with the Burner I/Altair satellite program led to the decision to rebuild the SLC-10W. Construction began in May 1963, using equipment shipped from England where the 60 IRBM sites were being dismantled, and was completed in October 1963. After the pad was used for missile/launcher twist testing in its IRBM configuration from March to April 1964, it was partially torn down for modifications to support space launch operations. The pad was back in commission in October 1964, ready to support the Burner I/Altair series of satellite launches. On January 18, 1965, the first THOR Burner I space booster was launched. Twenty launches, using THOR/Burner IIs, THOR Burner IIAs and Thor/Block 5D-1s were performed at this site between 1968 and July 1980. On July 14, 1980, the last LV-2F THOR Space Booster in existence became the 32nd THOR to lift off from SLC-10W.

Visit the National Park Service Travel American Aviation to learn more about Aviation related Historic Sites.
Last updated: August 29, 2017