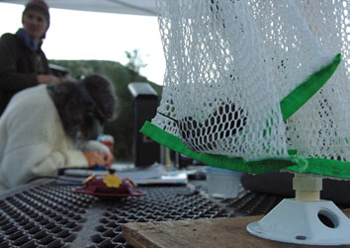 Hummingbirds are the second most diverse family of birds, with about 340 species that are found only in the western hemisphere. While the majority of hummingbird species are found in South America, 57 species are found in North America. Of these, 40% are endemic, 30% migrate long distances between Canada, the U.S., and Mexico, and 14% are of high conservation concern. Seventeen species occur in the U.S. and Canada, and 13 of these are neotropical migrants that overwinter in Mexico. Of these, four have been identified by the U.S. Fish and Wildlife Service and Partners in Flight, a nonprofit agency dedicated to conserving bird populations in the western hemisphere, as species that are in need of conservation actions: Costa's (Calypte costae), Calliope (Stellula calliope), Rufous (Selasphorus rufus) and Lucifer (Calothorax lucifer).
Hummingbirds, with their beautiful plumage and aerial acrobatics, are very charismatic fauna. Despite their popularity, they are not as well studied as many other bird families. In fact, it is those characteristics that make hummingbirds so fascinating that also make them difficult to study. Their small size, rapid movements, high-pitched vocalizations, unique flight abilities and other factors make it difficult to monitor hummingbirds with techniques used to monitor other landbirds.
Recent indications that some hummingbird species in the U.S. might be in decline have drawn attention to the need for a conservation strategy. However, without adequate information about hummingbird biology and habitat requirements, it would be difficult, if not impossible, to design a conservation program for these birds. The Hummingbird Monitoring Network (HMN) is a nonprofit organization that was founded in 2002 to meet this need.