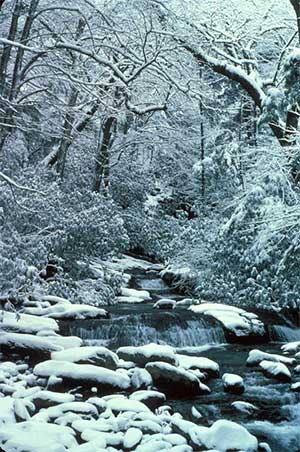 November 2015
Happy Thanksgiving! Of course, national parks are high on my list of things to be thankful for, and I hope you appreciate them, too. They are special places filled with cultural and natural resources. Also, many family memories are made in these preserved areas, so this holiday season is a perfect time to reconnect to "America's Best Idea."
Winter is nearly here, and the air grows cooler and the days shorter. The natural tendency for many of us is to bundle up, hurry indoors out of the cold temperatures, and do "inside" activities, like reading by the fire, baking holiday treats, or playing board games or doing crafts with the kids. However, ideally, you and your friends and family will spend some time over the holidays outdoors, maybe even in your favorite national park.
And national parks are true winter wonderlands, in a number of ways. One benefit of experiencing winter in parks is the unique conditions and ecological transitions that happen in nature during the winter.
Animal adaptations. At 

Glacier National Park

, white-tailed ptarmigans don't migrate south; they stay for the winter, molting white to match the snow. Or you can often see pacific gray whales at 

Channel Islands National Park

from December to March as they travel from feeding grounds in Alaska to breeding grounds in Mexico. And in

Great Smoky Mountains National Park

, everything seems a little bit quieter as the black bears climb into tall, hollow trees and enter a long winter's sleep to escape the cold.

Quiet beauty. Mountain peaks covered with snow and ice-covered branches often come to mind when thinking about winter in parks. But we have national parks in all types of climates. So maybe an early sunset at 

Padre Island National Seashore

 is more your style.

Extraordinary recreation. Exploring nature in the winter is incredibly satisfying. Nothing says adventure like cold, snowy activities, from skiing and snowshoeing, to truly adventurous wintertime camping. But there's really no limit to the creative ways you can spend time in parks in the winter – experiencing history, snorkeling, or bird watching, for example. And since many parks don't experience the same hustle and bustle in the winter season, right now is a great time to visit. For example, 

Yosemite National Park

 is truly magical in the winter, and with a lowered entrance fee for fall and winter, all the more reason to make your trip now!
Nature is especially magnificent and mysterious in the winter, and I hope you make spending some of your time outside a priority this holiday season. Encourage your friends and family to #OptOutside and visit a national park on Friday, Nov. 27. That's where you'll find me!
— Ray Sauvajot 
Associate Director, Natural Resource Stewardship and Science
Last updated: April 6, 2016