Meet a National Park Junior Ranger and EKiP Ambassador
The NPS Chief of Ocean and Coastal Resources, Eva DiDonato, brought her daughter to work to talk about Every Kid in a Park program.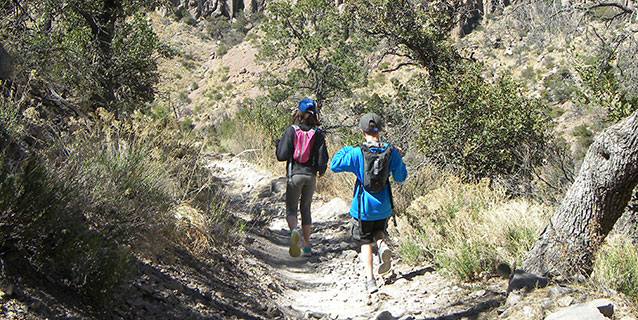 A pink vest was neatly folded on Eva DiDonato's desk when I entered her office this morning. This vest is small, but it's filled with big stories. Junior Ranger badges from parks like Mount Rushmore, Wind Cave, and Petroglyph decorate the front. An Every Kid in a Park pass with a homemade, beaded lanyard peeks out of one pocket. The others bulge with tools and souvenirs—a compass, a bighorn sheep flipbook, a collection of park tokens, and a special "Ocean Steward" badge from Olympic National Park.
"I had to do extra work for that one, more than just the Junior Ranger activities," explains Talia, Eva's daughter, soon-to-be-5th grader, and experienced Junior Ranger.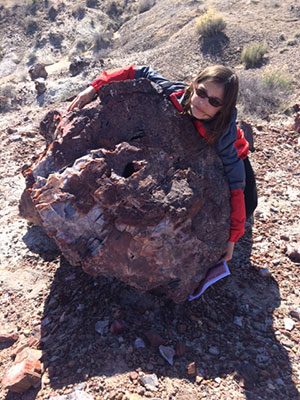 Seated in her mother's office in Fort Collins, Colorado, 10 year-old Talia counts off the 14 Junior Ranger badges she's already earned. She likes to explore parks with her parents and younger brother, even after surviving a sandstorm at Great Sand Dunes National Park. Feeling 50 mph sand blowing on her face is one of Talia's first (but not favorite) memories in a national park. She prefers other activities, like camping, hiking, and photography, to sandstorms.
"I like hikes when you get to get your hands on things," Talia said. This is part of the reason that Petrified Forest National Park is her favorite park so far. "Everything is amazing at Petrified Forest—the park's story is cool, and so is Newspaper Rock."
But earning those Junior Ranger badges isn't just a walk in the park. Talia has completed a lot of activities. Park bingo games and hugging a petrified tree stump are a few. But the most memorable activity was at Florissant Fossil Beds National Monument when Talia had to find a tree and then smell its bark.
"It didn't smell like anything," Talia confirms.
Smells aside, the Junior Ranger program has helped Talia in some of her elementary school studies. Habitats, animals, fossils, and rocks are just a few science topics that Talia has had an advantage due to her experiences in parks.
It sounds like Talia will stay focused on science, too. She's considering studying to be an archaeologist. During her spring break  trip,  Talia earned the title "Eagle Eye." At parks, the budding scientist spotted soaring raptors, petroglyphs, tiny pieces of petrified wood, and wildflowers. But I think she'll keep her options open; Talia really wants to see triggerfish, sea turtles, and whales firsthand.
"I love tidepools," Talia exclaims. Considering her mother, Eva, is a Marine Ecologist and Chief of the Ocean and Coastal Resources Branch at NPS, Talia comes by her enthusiasm for ocean life honestly.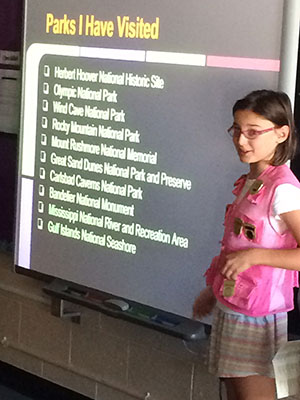 Talia's enthusiasm for tidepools, fossils and the Petrified Forest is contagious, and that makes her a perfect ambassador for parks and the Every Kid in a Park program. She has actively promoted the Every Kid in a Park program that gives a pass to federal lands to all 4th graders and their families. Wearing her pink Junior Ranger vest, Talia made a presentation to the 80 4th graders and teachers at her school on the day they received their Every Kid in a Park passes. Talia's talk about the parks she's visited pumped up all the kids to hit the trail and visit some parks.
And Talia's advice for kids just starting their park adventures is simple: "Enjoy everything that's around you." Well said, Talia. And thanks for spreading the word about National Parks!
Last updated: June 12, 2020