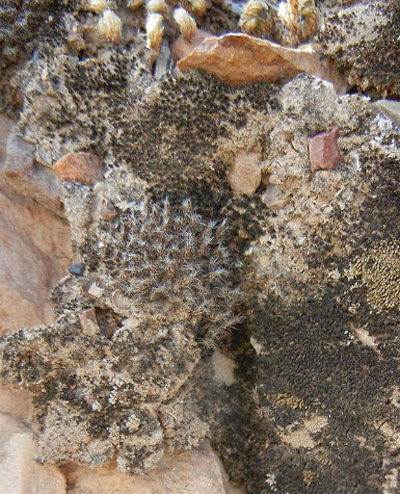 But if you stop and look at the ground for a few minutes, you may find a diverse community of tiny organisms, all working together. Biological soil crusts form a living groundcover that is the foundation of desert plant life. They also perform vital ecosystem functions.
Composition and Appearance
Biological soil crusts are made up of cyanobacteria. They sometimes look like areas of "dirty dirt" on the ground. Soil crusts also include lichens, mosses, green algae, microfungi, and bacteria. The visual appearance of soil crusts varies by region. In the Sonoran and Chihuahuan deserts, BSCs tend to be fl atter and less charismatic than the black, knobby crust more characteristic of the Colorado Plateau. Like many other life forms, desert crusts can often be found growing under a shrub or bush that provides shelter from the sun and wind.