Article
Slave Advertisements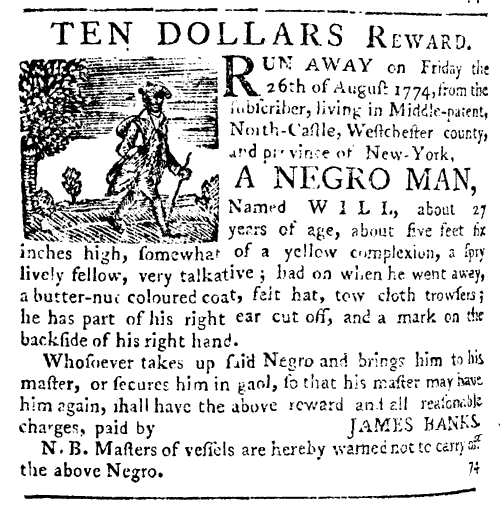 The first successful newspaper in the colonies, The Boston News-Letter was published in Boston, Massachusetts in 1704. Barely a month after the weekly began, an advertisement appeared in the newsletter on June 5th in which local merchant John Colman was selling "Two Negro Men" along with a "Negro Woman and Child." This marked the beginning of a 77-year period in which advertisements for slaves appeared in local Boston newspapers.
The Boston News-Letter would soon be overtaken by The Boston Gazette, which began publication in 1719. From 1719 to 1781, when slave advertisements ended in The Gazette, the newspaper had 1,103 different "slaves for sale" ads with over 2,500 individuals being sold. These advertisements offer valuable insight into the slave trade in Boston, such as information on where slaves were sold in the city. Boston did not have a single slave marketplace, rather the sale of slaves occurred on the ships they came on or at various places of business near Long Warf. An example of this is found in a November 20, 1727 Gazette ad which stated "Will be sold by Publick Vendue, at the Sun Tavern on Dock Square. Four likely Negros."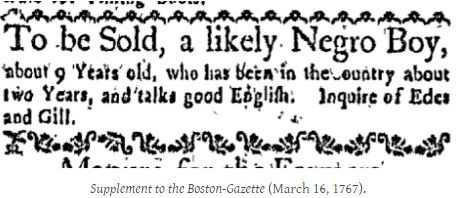 The advertisements also offer insight into the slaves themselves; their physical characteristics, gender, and age. From 1720-1781, roughly 60% of slaves sold were male, with the average age being 19.6. This shows that young males were the most sought after slaves in Boston. Descriptions of the slaves in TheGazette included simple terminology such as "able," "strong," "straight-limbed," "industrious," and "spry." The seller's goal was to keep the ad as unspecific as possible in order to maximize their opportunity for a quick sale. This is shown in an August 1742 ad stating "To be sold, a likely Negro Boy, about sixteen years of age."
The final slave advertisement in The Boston Gazette appeared on December 10, 1781. Though the slave trade in Boston would never match the size of southern cities, the 77 years that slave advertisements appeared in Boston newspapers gives important insight into the history of slavery in the city.
Last updated: March 17, 2017