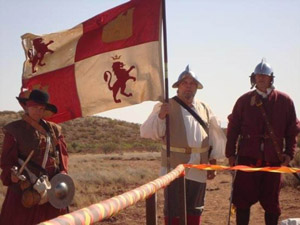 This is an essay from the Spanish Missions of the Southwest Travel Itinerary 
By the end of the 15th century, the Middle Ages came to a close as the modern world emerged. The legacy of the Middle Ages, the "Age of Faith," left its mark on the future of religion in Europe and after 1492, on the Americas. That year, Spain militarily defeated the Moors and initiated a period of expulsion for those who would not convert to Christianity. Following Columbus' first voyage, Spain had a new goal in that regard. When the cartographer Juan de la Cosa drew the first map of the Americas in 1500, he depicted a symbol of the Medieval past on the extreme left of his map where he had placed the North American coastline -- St. Christopher bearing the Christ child across the sea. In his Book of Prophecies (1501), a collection of biblical texts presented to Spain's sovereigns, Christopher Columbus, who signed his name Cristo Ferens, or Christ Bearer, asserted that the first steps toward bearing Christianity across the Atlantic had been taken.
Symbolically, just as Saint Christopher had carried the Christ child across a raging river, Spain was poised to send missionaries to Christianize the New World. In the papal bull of 1508, Universalis Ecclesiae (Of the Universal Church), Pope Julius II declared that the king of Spain would be the head of the Church in Spain and its empire. Such an empowerment clearly meant that along with Spanish law, governance, language, and culture, the Roman Catholic religion, too, would cross from Europe to the Americas and that the king of Spain would engage in the spread of Christianity to the native peoples of the New World. His charge would be to establish missions throughout the Western Hemisphere and, later, the Philippines. Thus began the history of the missions that across time would become a part of our national story and influence our shared common history with Spain, Mexico and Latin America.