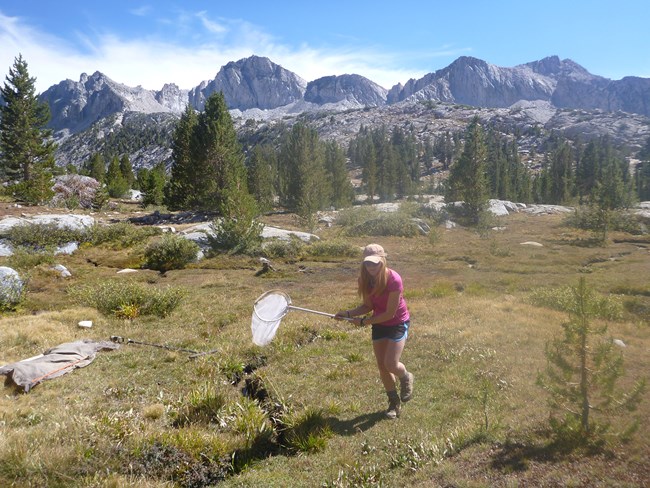 Background
Although wetlands comprise less than 10 percent of the land area in the Sierra Nevada, they provide numerous important functions. They are local and regional centers of biodiversity, and support species found nowhere else across western landscapes. Wetlands provide critical habitat for a variety of wildlife, play an important role in the life cycle of many invertebrate and amphibian species, and provide a wide variety of ecosystem services such as nutrient retention, flood control, and sediment storage. Wetlands are also valued aesthetic elements of Sierra Nevada landscapes and provide forage for wildlife and pack stock.
The Wetlands Ecological Integrity monitoring project is designed to provide basic information on the condition of targeted wetlands and to allow for the evaluation of long-term trends in wetland plant communities, groundwater dynamics, and macroinvertebrates in Sierra Nevada national parks.
The wetland types targeted for monitoring are:
Fens
: occur in basins, on slopes, or in association with distinct springs. They are perpetually saturated or flooded from groundwater sources. A major identifying trait of fens is they accumulate peat (decayed vegetation), enabling them to sequester carbon.
Wet meadows
: characterized by shallow water tables that persist through much of the growing season and fine-textured soils. Wet meadows rely on water from precipitation, groundwater, and/or surface flow. The high water tables often favor plant species that grow only in wetlands.
In Devils Postpile, the Middle Fork of the San Joaquin River strongly influences wetlands, making them predominantly riparian. The largest of these was selected for monitoring.