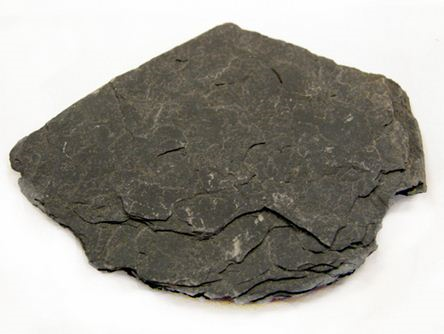 Although out-of-vogue with most contemporary architecture, slate remains one of the most aesthetically pleasing and durable of all roofing materials. Installed properly, slate roofs require relatively little maintenance and will last 60 to 125 years, or longer depending on the type of slate employed, roof configuration, and the geographical location of the property. Some slates have been known to last over 200 years. Found on virtually every class of building, slate roofs are perhaps most often associated with institutional, ecclesiastical, and government buildings, where longevity is an especially important consideration in material choices. In the slate quarrying regions of the country, where supply is abundant, slate was often used on farm and agricultural buildings as well.
What is Slate?
Slate is a fine-grained, foliated, homogeneous metamorphic rock derived from an original shale-type sedimentary rock composed of clay or volcanic ash through low-grade regional metamorphism (profound physical and/or chemical changes in the original rock structure). It is the finest grained foliated metamorphic rock. Foliation in geology refers to repetitive layering in metamorphic rocks. Each layer may be as thin as a sheet of paper, or over a meter in thickness. The word comes from the Latin folium, meaning "leaf," and refers to the sheet-like planar structure. It is caused by shearing forces (pressures pushing different sections of the rock in different directions), or differential pressure (higher pressure from one direction than in others). The layers form parallel to the direction of the shear, or perpendicular to the direction of higher pressure. Because of the foliation or layering effect of these stones, very thin sections may be produced, giving way to a variety of uses, roofing "shingles" being only one such use. When broken, slate retains a natural appearance while remaining relatively flat and easy to stack. Also, when considering the material for use on a roof, one should note that slate has an extremely low water absorption index, less than 0.4%, which makes it resistant to frost damage.
Slate is available in a variety of colors. The most common are grey, blue-grey, black, various shades of green, deep purple, brick red, and mottled varieties. The presence of carbonaceous matter, derived from the decay of marine organisms on ancient sea floors, gives rise to the black colored slates. Compounds of iron generate the red, purple, and green colored slates.