Charles City County: Sherwood Forest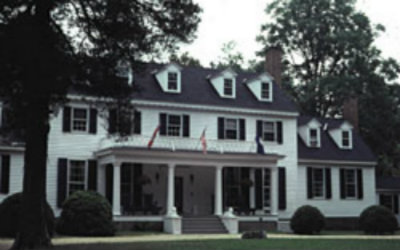 President John Tyler purchased the Walnut Grove Planation in 1842 while serving as the president of the United States. Walnut Grove, built in 1780, was renamed Sherwood Forest after Tyler and his bride Julia Gardiner settled in Charles City County in 1845 after Tyler was expelled from the Whig Party. Tyler renamed the house because he considered himself to be like Robin Hood- a political outlaw.
President Tyler added wings, hypends, and dependencies to the house, which produced a unified and balanced facade. These additions lengthened the house by 300--possibly making it the longest historic house in the state. 
After the succession of the first southern states in 1861, President Tyler led a compromise movement, although his effort failed. He subsequently contributed to the creation of the Confederacy and served as a member of the Confederate Congress when he died in 1862. Following the Civil War, Mrs. Tyler returned to Sherwood Forest to reclaim the plantation, which had been badly damaged.
Today the property remains in the Tyler family. Sherwood Forest was listed as a Virginia Landmarks Register on September 9, 1969 and the National Register of Historic Places on October 15, 1966. It is located at 14501 John Tyler Memorial Hwy, Charles City, VA 23030. For more information please visit: Sherwood Forest Tours or call: (804) 829-5377.
Last updated: September 27, 2016