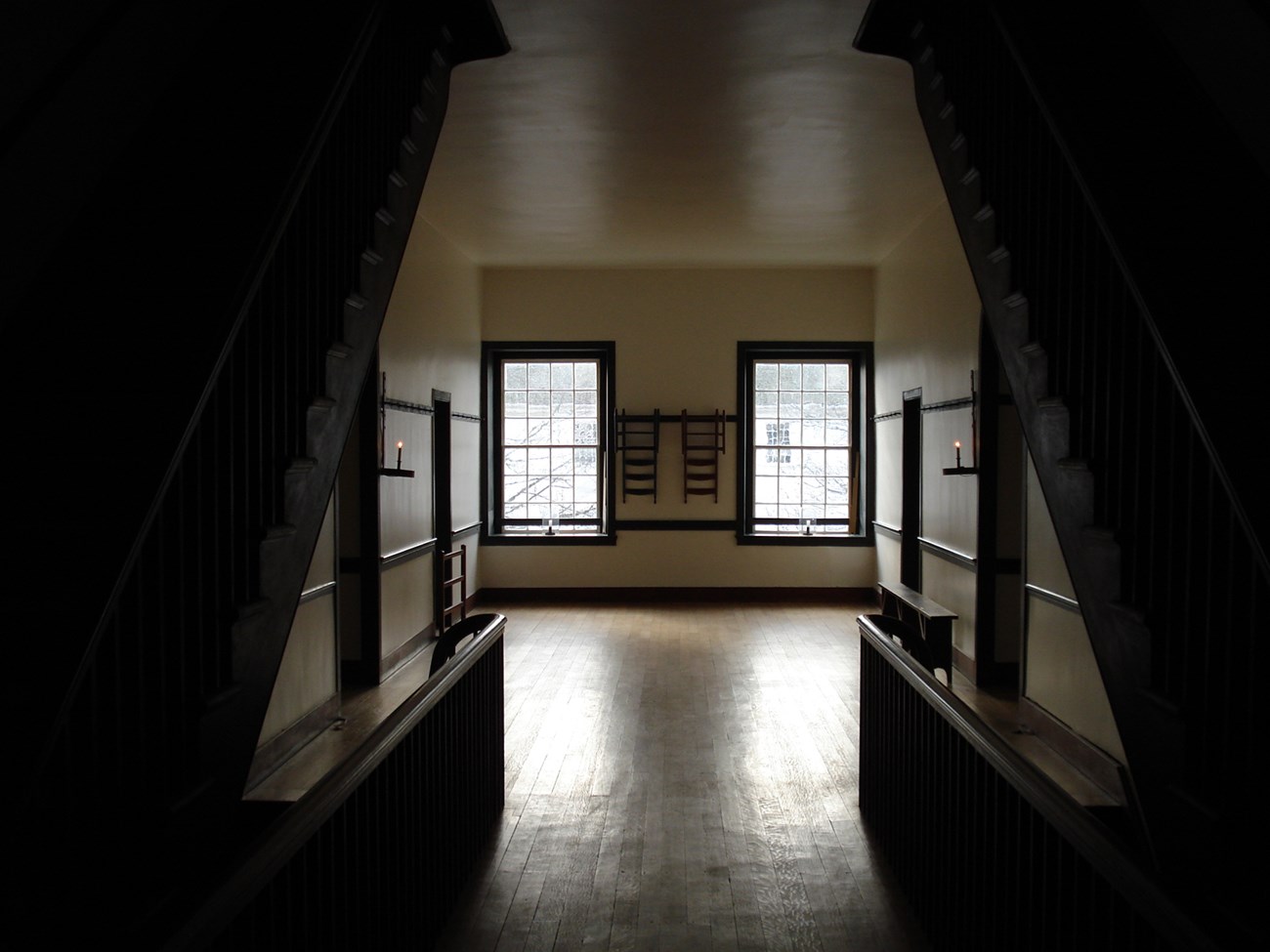 The Shaker style of architecture, furniture, and decorative art is characterized by simplicity, utility, and craftsmanship. The Shaker sense of order and neatness is reflected in the their work's clean lines and lack of ornamentation.

Shaker headquarters, in Mount Lebanon, published the Millennial Laws in 1821 (revised throughout the 19th century) to set standards of conduct. It included standards of both the natural and built environment as a means to create paradise on earth. Each community's location would include a site of great natural beauty for worship and rejoicing. Buildings were to be constructed in a linear arrangement with carefully tended walkways, roads and fields. Restrictions on form and color ensured simplicity. Shakers turned to traditional, rural vernacular buildings for inspiration. These included, most notably, the Federal and Greek Revival styles of the late 18th and early 19th centuries.

Each village was typically divided into three units or "families" of 30 to 100 individuals. The central and most significant family was the Church Family. The other two family units, North and South, were named after their geographic location relative to the central core. Typically, family buildings were located about three-quarters of a mile apart in a linear arrangement. The meeting house, office, and primary elders' dwelling were located within the Church Family complex. Other homes and some of the workshops were usually located along the main road radiating out. Service buildings, such as barns, were located behind this central axis.

As villages grew in population so did their functions or tasks. Specialized buildings, such as tanning houses, broom shops, cooper shops, and spinning shops, were required. Early buildings were made of wood and painted yellow with red shingle roofs. The meeting house was always white, as dictated by the Millennial Laws. Masonry materials, such as granite and marble, began being used as populations grew.

The Millennial Laws restricted the use of decorative features. Elements such as door and window frames, lintels and chimneys, stairways and hardware were all constructed with clean lines in basic forms. Individual Shaker buildings were often designed in response to the demands of communal living. Buildings that were used by both men and women, such as meetinghouses and houses, included separate entrances and stairways as a way to separate the two sexes. Meetinghouse interiors included large, uninterrupted floor space to allow for religious dances, which required a large truss to support the roof. Dwellings included communal rooms on the ground floor, but segregated bedrooms on the floors above. These large dwellings introduced interior windows to bring natural light into dark interior rooms. Wood peg rails were a feature of many rooms, built on all four walls for hanging garments, chairs, hats or baskets.

Barns were large and visually dominant, which reflected the importance of agriculture to the Shaker economy. They were often built into hillsides, allowing for access on multiple levels. Grain was stored on upper levels and cattle below. Many of the other daily activities took place in large wooden buildings similar in size and form to the dwellings.

Shaker furniture and handicrafts were also influenced by the concepts of order, utility and durability. As with their architecture, furniture consisted of simple forms and proportion, and was generally made of maple, birch, chestnut, butternut or honey pine. Shakers made all of their own furnishings, including chairs, cupboards, tables, beds, desks, bookcases, washstands, trunks, benches, clocks, stools, foot warmers, sewing boxes, brushes, brooms, and more.

An essential handcraft in very Shaker community was basket weaving. Baskets were created in a wide variety of shapes and sizes as each was created for a specific use. Shaker craftsman, unlike others, designed a piece knowing its exact purpose and intended placement within a room. Built-in cupboards and drawers were used extensively, and high pine chests were found in nearly every room in dwellings or shops. Beds were made with short posts, as tall posts did not serve a useful function and would therefore be an unnecessary use of wood. These pieces were also popular with "the World," and Shakers generated income by selling their crafts.

In the late 19th century, the Shakers began mass-producing ladder-back chairs at Mount Lebanon. This chair was based on a common New England form, but refined by the Shakers to create a lighter, more comfortable version with simple finials. The Mount Lebanon ladder-back chair received a medal at the 1876 Philadelphia Centennial Exhibition for combining "strength, sprightliness, and modest beauty." They eventually acquired a US Patent for their design to ensure continued profits from their production. They also obtained a patent for a ball-and-socket chair-tilter for the base of legs, which is found in many chairs today. Additionally, their invention of the circular saw in 1810 transformed the production of furniture throughout the world. Today, these antiques are revered and widely sought after, as well as copied by modern furniture manufacturers.