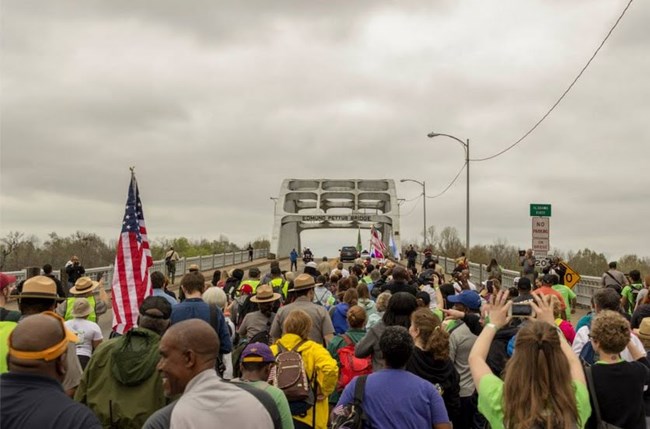 1. Historical thinking offers a tool for understanding the past and a guide to action now.
The mantra of the walking classroom was "Selma is Now" and "What is Your Selma?" Marchers along the Selma to Montgomery (SEMO) trail discussed today's major civil rights challenges. Park rangers focused lessons on understanding the emotional charge and faithful determination of the original marchers and the actions they took to inspire social and political change.
2. Social media expands engagement.
Park rangers encouraged marchers to document their experience digitally. Their videos, blogs, photos, posts, and other digital ephemera provided marchers with a space to continuously reflect on their experiences and allowed those at home across the U.S. to follow along. Candid and contemplative, these materials are intimate vignettes into a unique living history experience.
3. Walking classrooms spotlight new sources of historical insight.
Park rangers organized pitstops for students to speak with individuals who participated in the original Selma to Montgomery March. These conversations, combined with the 54-mile trek, helped participants not only comprehend the emotional and physical labor of protest, its economic costs, and logistical complexity, but also appreciate the activists' commitment to justice.
4. Physical and cultural landscapes help tell stories of social change.
In its exploration of the legacy of the Selma to Montgomery March, SEMO organizers complemented historical texts and first-person accounts with the landscape around them. Campsites that marchers used in 1965 became contemporary stops of "community collaboration, hope, and perseverance," and the route that students followed invited them to imagine themselves as foot soldiers in the Civil Rights Movement.
5. History lessons come in many forms.
Through learning and singing freedom songs, walking classroom participants embodied and honored the solidarity and resolve that emerge from congregational music, protest chants, and faith in the positive change of social justice.
Back to the History Discover Events Gallery
Back to the Series: Best Practices for History Lessons and History Discovery Events.