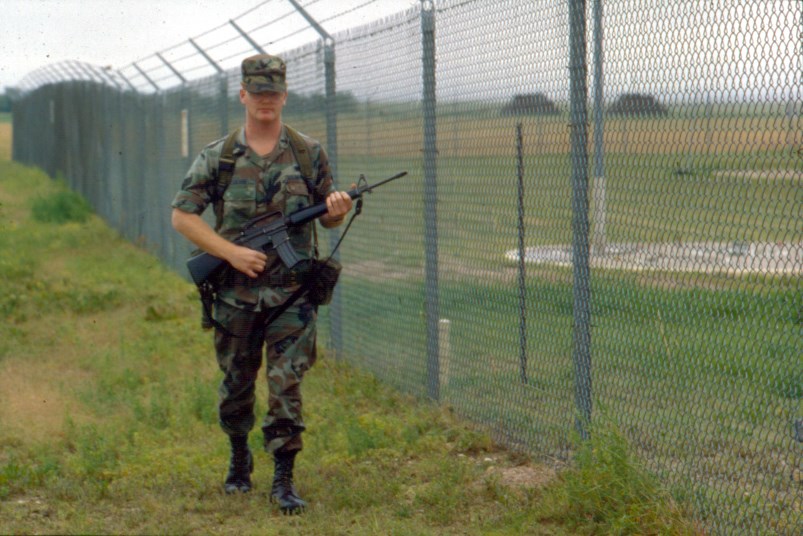 "They were usually a bunch of fresh faced kids sent to God's forsaken half acre or something…I know a couple of times when it was a hundred degrees and there were boys that were stationed up there [at a Launch Facility] and my mom took ice tea up to them . . . I suppose now they would have gotten into great trouble because they could have been drugged or something, but you know, that's just how it was." –Gene S. Williams, Local Rancher
Two security alert teams were assigned to each Launch Control Facility (LCF).The two-person team typically included a Sergeant (now Senior Airman) and an Airman or Airman First Class ranging in age from eighteen to the mid-to-late twenties. The two-person security alert teams rotated being on-duty during the three-day alert tour. The security alert teams, under the supervision of the flight security controllers, were responsible for periodic site inspections and responding to any security breaches that occurred in the flight area, including the LCF and all ten Launch Facilities (Missile Silos). It was their duty to secure a Launch Facility, for example, following an alarm or security breach and remain at the Launch Facility until the site was secure and alarmed.
Intruders –Squirrels, Rabbits, Grasshoppers & Camels
Although Air Force records do not indicate any potentially dangerous breaches of security at a Minuteman Launch Facility, the security controller frequently dispatched security details to the Launch Facilities to verify the integrity of the site. Each LCF and Launch Facility was equipped with an alarm system that sounded, if tripped, in the Launch Control Center (LCC). To combat sabotage the systems were unusually sensitive and the alarm was often set off by squirrels, rabbits, and even grasshoppers.
Some of these dispatch-call incidents proved unusual experiences for security teams. As reported in LIFE magazine in 1964, in one instance in South Dakota, an alarm buzzer indicating a Launch Facility breach sounded inthe LCC and the commander phoned the topside flight security controller who immediately dispatched a security team to the site. The armed security team hurried to the site, where to their surprise they discovered two camels rubbing against the fence. The animals had escaped from a nearby Passion Play. Another incident proved to be a prank. After realizing security teams would respond to such innocuous occurrences as cows grazing near the fence, one local threw a raccoon inside the fence. The local prankster was eventually caught and released after questioning.
Getting On-Site – Authenticate Or Else
The security alert team was also responsible for escorting maintenance teams onto the Launch Facility grounds. Getting access to the grounds, just as accessing an LCF, required a valid authentication number. Personnel who required authentication received a number and a table of numbers with corresponding letters from Ellsworth Air Force Base. The maintenance personnel would state what table he was working off of and call out the letters that corresponded with his number using a phonetic alphabet. If they had the wrong number or read the code wrong, the standard procedure was for the security to "jack them up" against a fence or wall and check their identification.
In order to access the missile launcher, two sets of codes were needed— A side codes of security personnel and B side codes of maintenance personnel. On some occasions, when repairing the launch system or security system proved time-consuming, the flight security controller would send a two or four person "camper team" from base to the Launch Facility, capable of working and securing the site overnight, until maintenance completed the necessary repairs.
Other Duties As Assigned - Housekeeping
In addition to their security duties, the security alert team was also responsible for assisting the facility manager in housekeeping duties at the LCF. Their typical areas of responsibility included the hallways, office, dayroom, bathroom, and their bedrooms.