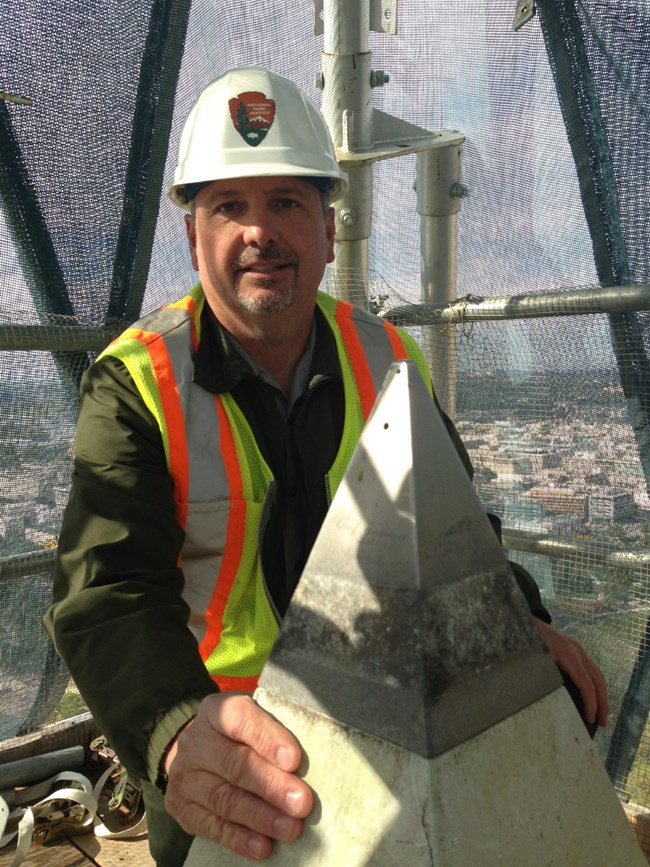 What does your job involve? As the Chief of Professional Services at National Mall and Memorial Parks, our division is responsible for the architecture, construction, engineering, landscape architecture, transportation and urban planning programs in the park. The division develops and manages project justifications, scopes of work, project schedules, funding requests and estimates, coordinates project requirements and project reviews with other divisions, and assures projects meet parkwide standards and goals. The division also manages contracted services for studies, surveys, design and engineering, construction, inspection, and overall project management. The division supports the implementation of the park's comprehensive development management plans, in particular, the National Mall Plan, with the goal of improving visitor experience while protecting and restoring cultural and natural resourcessssss.
How did you get into the engineering industry? I graduated from Virginia Tech with a degree in Mechanical Engineering. During college, I focused coursework and summer jobs on the fabrication side of things as opposed to the design process. After graduation, my first professional job was with Clark Construction as a project engineer helping build Oriole Park at Camden Yards. I started my National Park Service (NPS) career at the National Capital Region's Contracting Office as a project engineer/manager.
What do you think is the best thing about a career in engineering? Working in a profession that requires problem solving, working closely with other disciplines and teams, and often developing unique solutions to a variety of complex issues, particularly when it involves historic structures and unique asset types. Also, being able to see the results of your work after a structure is built or rehabilitated is quite rewarding.
What are you most proud of? Managing the engineering solutions and construction repairs to the Washington Monument after the August 23, 2011 earthquake that struck Washington, D.C. Extensive damage to the stone obelisk and elevator system required substantial, and precarious, assessments of the displacement of stones, joints, lightning protection, and the elevator system. Using centuries-old stone masonry techniques and modern engineering science, we developed a plan to assess the damages (both interior and exterior) and develop engineering solutions to this one of a kind structure.
What are the career benefits of working for the National Park Service? Being able to problem-solve and develop a variety of engineering solutions to nationally historic and iconic structures, as well as being part of a team to plan, design and construct new memorials in Washington, D.C. Additionally, NPS engineering positions provide a career path with personal growth opportunities that are never static.
What would your advice be to someone interested in an engineering role at the National Park Service? An engineering position with the NPS opens doors to a variety of career options. There are opportunities to perform design work as well as construction management. Coming from an engineering background, there are other professional career options to pursue such a project management, facility management, and park leadership positions.
During my tenure at the National Mall (1997-present), the following is a list of various projects I was involved with the planning, design, and construction to highlight the variety of projects an engineer may be involved with:
Franklin Delano Roosevelt Memorial (new memorial completed 1997)
World War II Memorial (new memorial completed 2004)
George Mason Memorial (new memorial completed 2002)
Dwight D. Eisenhower Memorial (new memorial to be dedicated on May 8, 2020)
American Veterans Disabled for Life Memorial (new memorial completed 2014)
Japanese American Memorial (new memorial completed 2001)
Holodomor Ukraine Famine Memorial (new memorial completed 2015)
Martin Luther King Jr. Memorial (new memorial completed 2011)
African American Civil War Memorial (new memorial completed 1998)
Washington Monument Rehabilitation (HVAC (heating, ventilation, and air conditioning), lighting, masonry, elevator, security screening facility, vehicular barrier system, earthquake repairs, landscape)
Jefferson Memorial Rehabilitation projects (seawall. exhibits, restrooms, elevator, roof, cleaning, masonry)
Lincoln Memorial Rehabilitation projects (exhibits, roof, elevator, Undercroft, lighting, ADA (Americans with Disabilities Act) walks, vehicular barrier system)
Lincoln Reflecting Pool (complete replacement with circulation, treatment and filtration, use Potomac River water for fill)
Vietnam Veterans Memorial Rehabilitation (new lighting, walkway, landscape)
Korean War Veterans Memorial Rehabilitation (lighting, new fountain system, drainage, landscape)
Mall Turf and Soil Restoration (3rd Street to 14th Street great lawn panels, underground cisterns 1M gallons, irrigation, drainage, high performance turf)
Ford's Theatre Restoration (roof, HVAC, exhibits, museum, stage, interior)
Petersen House Rehabilitation - House where Lincoln Died (roof, interior, HVAC)
D.C. War Memorial Rehabilitation (roof, masonry, cleaning)
Construction of new United States Park Police Central District sub-station (new in 2019 – police station, jail, security camera control, prisoner processing)
Reconstruction of National Mall's 47 miles of roadways (structural, lighting, storm drains, curb/gutter, striping, asphalt)
Belmont-Paul House rehab (HVAC, fire system, structural repairs, exterior)
Lockkeepers House (total rehabilitation and relocation of oldest structure on the National Mall)
17th Street Levee System (prevents Potomac River from flooding downtown D.C.)
Pedestrian Wayfinding system (new park signs, maps, directional kiosks)
Parking Meters (installation of parking meters for revenue generation)
Projects currently in various stages of planning and design: