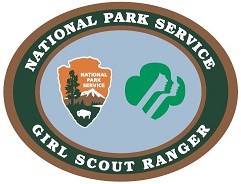 What do you get when the National Park Service and Girl Scouts of America join together? For one thing, the Girl Scout Ranger Program! The
Girl Scout Ranger Program
(GSRP) represents an expansion of the previous National Park Service Resource Stewardship Girl Scout Ranger Program and a partnership between the National Park Service and the Girl Scouts of America.
The new program began in 2015
, with the dual purpose of getting girl scouts outdoors and helping them learn about the national parks. By participating in organized education activities or volunteer service projects at one or more national parks, girl scouts can earn a Girl Scout Ranger certificate after five hours of participation and a Girl Scout Ranger Program patch after ten hours.