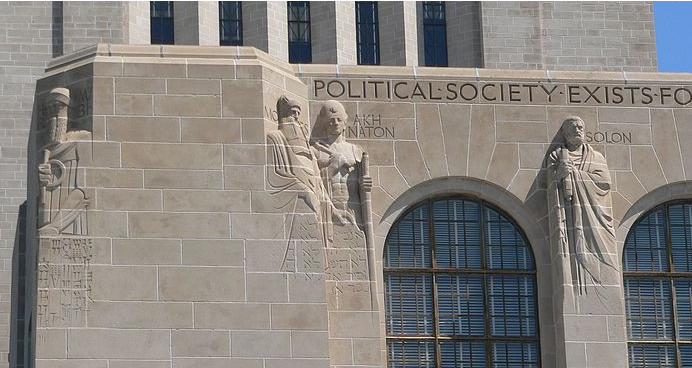 Have you ever looked up at a building and found it looking back down at you? If so, you were probably looking at the building's herms. A herm is a sculpture with a head, and perhaps a torso, above a plain, usually squared lower section. The form originated in Ancient Greece, as a sacred stone object connected with the cult of Hermes. Over time the objects took on human form, usually surmounted with the head of Hermes. The form was later adopted by the Romans, and revived during the Renaissance in the form of "term" (or terminal) figures. In Classical architecture, a term is a human head and bust that continues as a square tapering pillar-like form. .[1]

The appeal of herms for more recent styles of architecture is found in two noteworthy buildings here in Nebraska. One is located in Lincoln, the other in Omaha. Both were built about the same time, and both incorporate herms to celebrate the purpose of the buildings. A closer look however, shows that the herms have distinctly different appearances, and were used to convey significantly different messages.
A public building very familiar to many in the Midwest is the Nebraska State Capitol (designated a National Historic Landmark in 1976), designed by New York architect Bertram Grosvenor Goodhue in 1920. The building was constructed of Indiana limestone from 1922 to 1932, and combines three architectural styles: Art Deco, Neo-Byzantine, and Gothic Revival. Goodhue incorporated herms of Classical figures on the four main pavilions. Overseeing the public entrances, stern figures gaze down, silently establishing an aura of dignity and respectability worthy of the highest level of government in the state. The figures represent ancient lawmakers, and suggest a tradition and direct connection between 20th century political endeavors to those begun in ancient Greece (Figure 1).