Scranton's World War I Doughboy Statue is Centerpiece for World War I Centennial Commemoration at Steamtown National Historic Site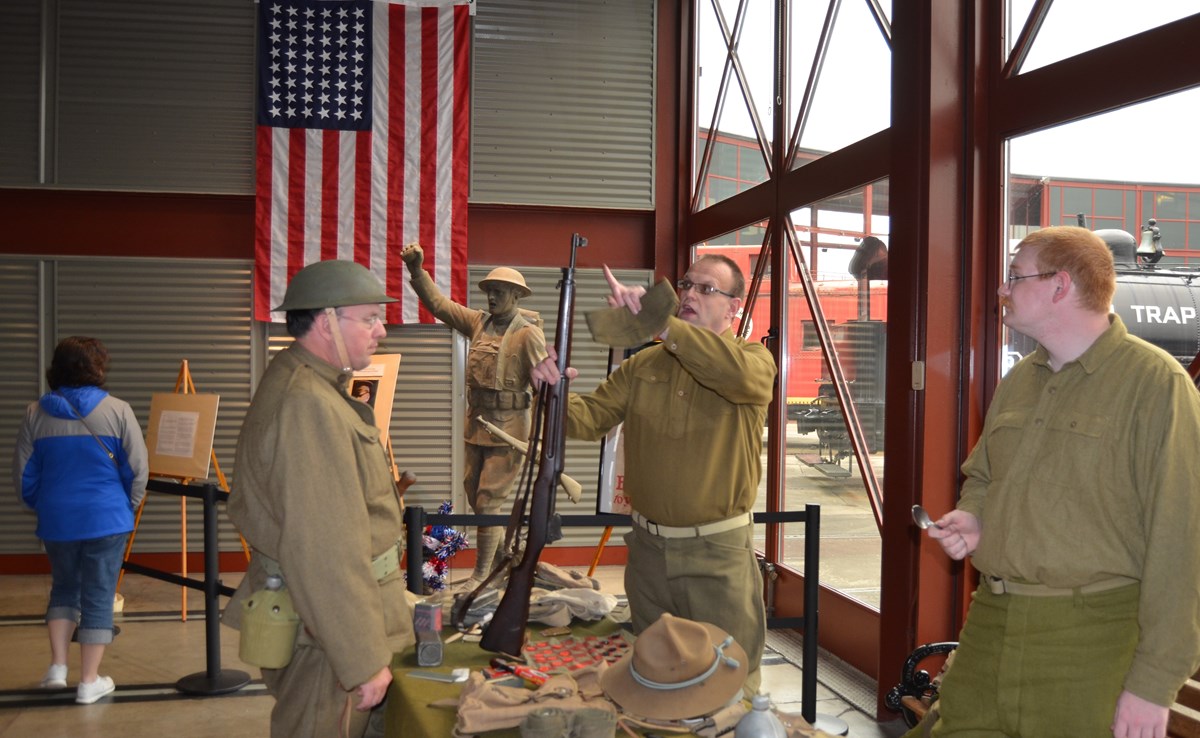 Steamtown National Historic Site kicked off its centennial commemoration of America's participation in the First World War with a June 14 Flag Day rededication of Scranton's World War I "Doughboy" statue.

The statue, originally dedicated in Scranton's Duffy Park in 1940 by Rabiega-Gorgol Veterans of Foreign Wars (VFW) Post No. 3451, had been placed in storage due to ongoing construction of a new bridge on Harrison Avenue. The statue and park honored Lieutenant Colonel Frank J. Duffy and other Scrantonians who died while serving during World War I. Duffy worked for the Delaware, Lackawanna and Western (DL&W) Railroad in Scranton before the war and undoubtedly walked the DL&W railyard complex which now comprises Steamtown.

The program began with a rendition of the National Anthem by Cindy Kennedy. Following remarks by Superintendent Debbie Conway and site historian Patrick McKnight, the VFW placed a wreath next to the Doughboy and its Honor Guard offered a 21-gun salute. "Taps" was then performed by Scout First Class Josh to honor the memory of all Americans who served during the Great War.

Steamtown NHS will partner with VFW Post 3451 in displaying the Duffy Park Doughboy statue through November 11, 2018, the 100th anniversary of the signing of the Armistice that ended hostilities in the "War to end all Wars." The statue, officially known as "The Spirit of the American Doughboy," was created by Ernest M. "Dick" Viquesney, and mimics the pose of what is perhaps America's most famous icon, the Statue of Liberty. Just as Lady Liberty welcomed "huddled masses yearning to breathe free," the American Doughboy is seen charging forward to "make the world safe for democracy." The Doughboy statue proved popular and became the WWI public memorial of choice from 1921 until the start of World War II, with more than 125 placed across the country.

Steamtown NHS was also delighted to partner with the Lackawanna County Library System (LCLS) in the showing of a classic WWI feature film in the site's theater following the close of the ceremony. This is the first of many collaborative opportunities planned with the LCLS and other partners in commemorating America's participation in the First World War.
Last updated: January 11, 2018