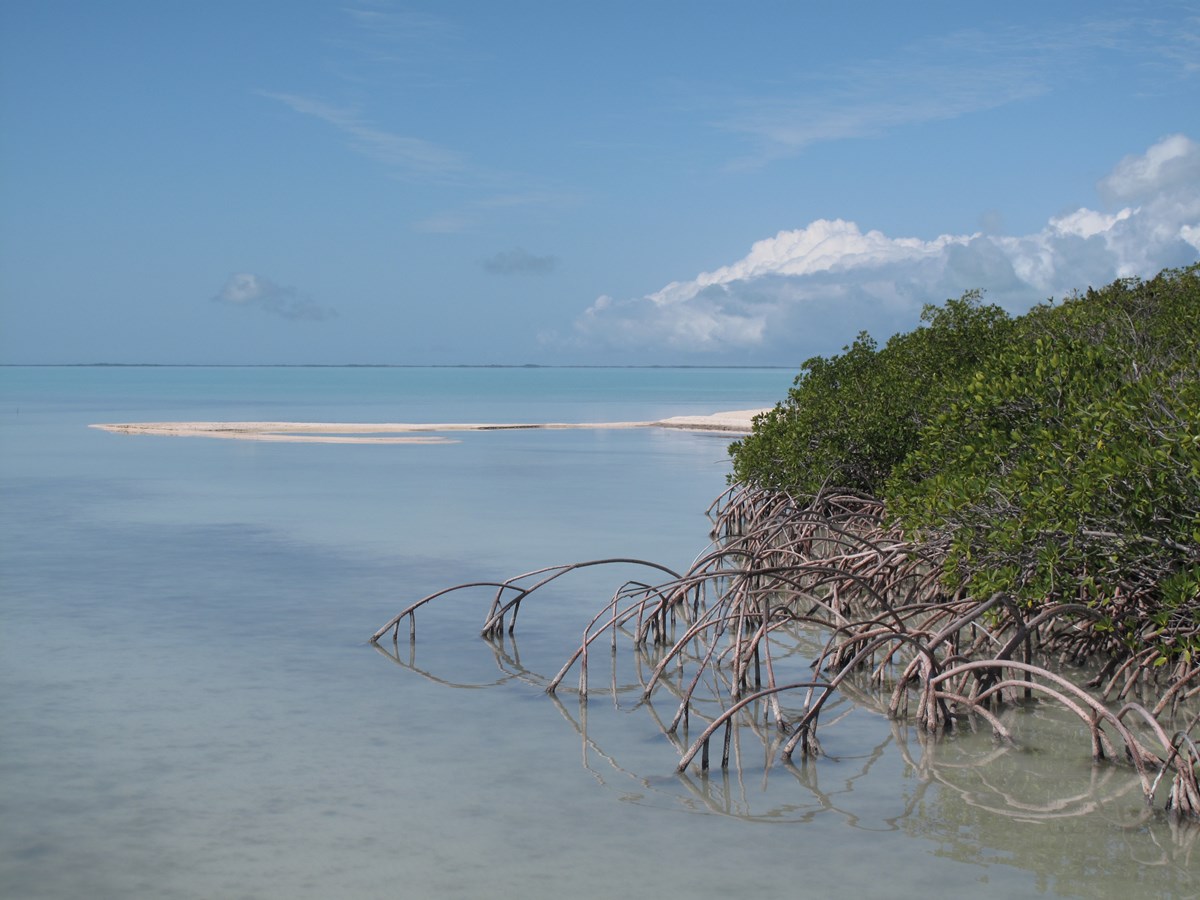 Water covers nearly 75% of the Earth. The ocean is the largest biome on our planet, and it affects all of us—as a source for food, recreation, commerce, and oxygen. But marine debris, overfishing, pollution, invasive species, and other stressors threaten the health of our ocean. That's why four national parks are teaming up with NOAA this month on the Gulf of Mexico Ecosystems and Carbon Cycle cruise (GOMECC-3). We're working together to learn more about one of the ocean's most crucial threats, ocean acidification (OA).
What is OA?
Oceans absorb excess carbon dioxide (CO2) from the atmosphere. When there's too much carbon in the oceans, the ecosystem gets out of balance. High levels of carbon lead to lower pH, which means the water is more acidic. And the higher acidity limits many species' (coral, oysters, sea urchins, etc.) ability to build their shells and skeletons. This restriction may disrupt the entire food web. OA is a fundamental change in the chemistry of the ocean, and it can drastically alter the natural processes in ocean and coastal waters.
NPS protects our oceans
Park staff are driven by the NPS mission to preserve, unimpaired, parks' oceans. In the NPS, we conserve 11,000 miles of coast and 2.5 million acres of ocean and Great Lake waters. Visitors can find ocean and coastal resources in 88 parks.
Several coastal park units around the country have begun to monitor OA and work with partners to better understand the impacts that OA is having on NPS resources. Plankton, invertebrates, and coral are some of the organisms of immediate interest in these efforts.
The NPS is uniquely positioned to help confront OA challenges through resource protection, habitat restoration, and educational efforts. Relieving other stressors like excessive marine debris gives vulnerable organisms a better position to withstand the effects of OA. Also, the NPS welcomed more than 330 million visitors in 2016, so our parks have many opportunities to help educate visitors about OA and its effects.
The research cruise, GOMECC-3
Four national parks will contribute to the GOMECC-3 research cruise by collecting water samples. However, park staff won't be on board the R/V Ronald H. Brown; they'll fill the sampling bottles at specific locations on-shore and near-shore within NPS parks. Park staff will coordinate with the researchers at sea to make sure the samples are taken on the same day and on the same transect (line) from shore to ship. Samples will be sent to NOAA for analysis along with samples taken from the ship.
It's important to have water samples taken from different locations so scientists can improve our understanding of OA in the area. Park managers can use the results to gain improved spatial understanding of ocean acidification and a general understanding of changing patterns over time. This information helps the NPS better preserve our oceans and coasts for future generations.
GOMECC-3 runs from July 18 - Aug. 21, 2017. Check back for photos and updates of park science in action as the cruise stops in Dry Tortugas National Park, Padre Island National Seashore, Everglades National Park, and Biscayne National Park.

Update, July 18: Dry Tortugas National Park in Florida
The sampling went well today, with just one minor hiccup: One of our team unscrewed the vent valve all the way, and it fell into the ocean. Luckily, we had snorkel gear and quickly recovered it. We only made that mistake once! Our team of 4 collected samples at two different sites. Now we'll send them on to NOAA for analysis.

Update, August 1: Padre Island National Seashore in Texas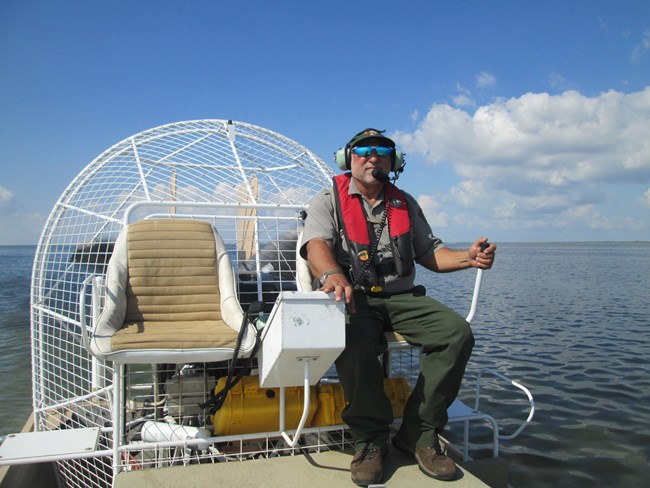 Charles Sassine pilots an airboat to the water sample collection point on August 1, 2017, in the waters of Padre Island National Seashore. The crew on board the
Ronald H. Brown
let NPS staff know when they'd be offshore, so they could coordinate the water sampling on the same day.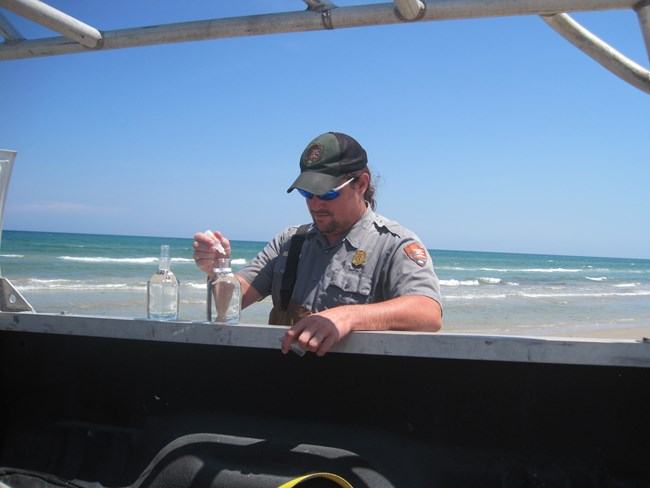 Travis Clapp prepares samples of water to send to NOAA for analysis. Collecting these near-shore samples helps researchers understand the overall ocean health of the Gulf of Mexico.
Update, August 18: Everglades National Park in Florida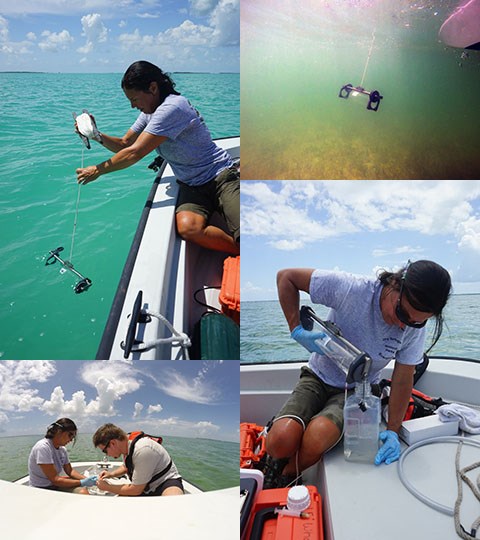 Clockwise from top left: Vicki Absten drops the water sample collector into the ocean at Everglades National Park; Seawater is collected; Vicki pours the water sample into the Niskin bottle for shipment to NOAA; Vicki and Michael Jordan work together to seal the bottle.