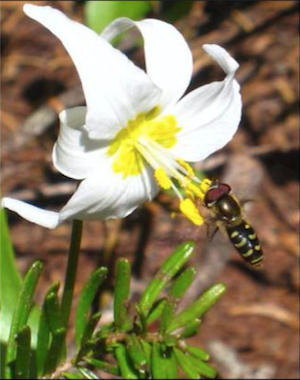 Importance
Unfortunately, many people have negative associations with bees. Between bee stings and bee allergies the little critters can be quite cruel. However, bees provide an essential ecosystem service: pollination. In the US alone, more than 150 food crops rely on animal pollination, totaling an estimated $4 to $7 billion in US agriculture annually. Pollinators are equally essential to Mount Rainier's ecosystems (Figure 1).
Figure 1: Pollination is an Essential Ecosystem Service
- A flower-fly (Family Syrphidae) foraging for pollen on Avalanche Lily (Erythronium monatnum). Pollinators (like this fly) rely on plants for food - either pollen or nectar - and plants rely on pollinators for reproduction. In the case of the Avalanche Lily, flowers will not seed if not pollinated by insects.