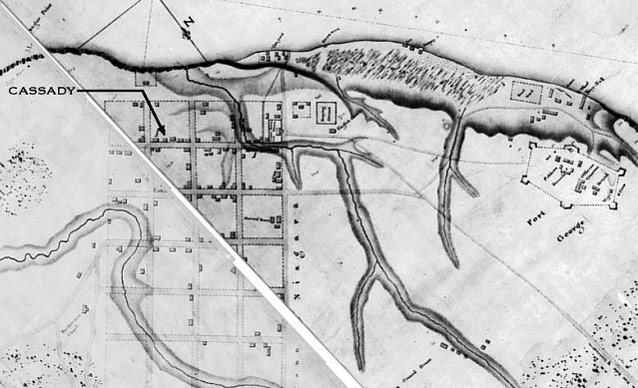 On May 27th, 1813, Sarah Cassady gathered her children and left her home in Newark, Canada, to seek refuge at the farm of Colonel Butler. American soldiers had landed early that morning and were advancing through the town toward Fort George. Most residents fled into the countryside to avoid danger.  
The next day, American troops occupied the fort and the town while the British continued to retreat. When Cassady and her children returned to their home on Queen Street, they found American officers quartered there, eating the bread she had baked earlier in the week. When the officers heard that Cassady had baked the bread, they made her an offer: she could return to live in the town if she promised to bake bread for them.
Cassady's husband, Samuel, was in the provincial militia, and would not be returning until the British army could regroup. Sarah had few options to keep her children safe and sheltered. She accepted the offer.
The officers provided her with 100 pounds of flour and asked her to bake 100 loaves of bread. She and her children could keep any bread left over.
The American army occupied the town until December, and Cassady baked bread for them throughout the occupation. When the British army finally marched back to retake the town, the Americans set fire to the houses. The town's residents were left in the snow without shelter. Records do not indicate how Cassady survived in the snow until the British troops arrived.
After the war, the Cassadys submitted a claim to the British government for their losses, listing a house with two chimneys and one oven. For six months, Sarah had used that oven to bake bread for the enemy so that she and her children could live in safety.
The Cassady family survived the war, thanks to Sarah's hard work. Her daughter, Jane, grew up in the community and preserved for history her mother's experiences of war, baking, and survival.