Notable People of the Trail
Native Americans
The lands through which the Trail passed were the homelands and hunting grounds of many Native American people. These lands were the hunting grounds of the Comanche, the Kiowa, southern bands of the Cheyenne and the Arapaho, and the Plains Apache, as well as the homelands of the Osage, the Kansas (Kaw), the Jicarilla Apache, the Ute, and the Pueblo Indians (National Park Service [NPS] 2009). Early encounters with Native Americans were primarily peaceful negotiations to obtain access to lands and trade in items such as horses and mules. However, confrontation with Native Americans increased with traffic along the Trail and settlers moving west. Eventually, Native Americans were displaced or assigned to reservations. Prior to use of the Trail by white traders and settlers, it was a part of the Native American trade network. It was also used by Spaniards of New Mexico for exploration and trade with the Plains Indians.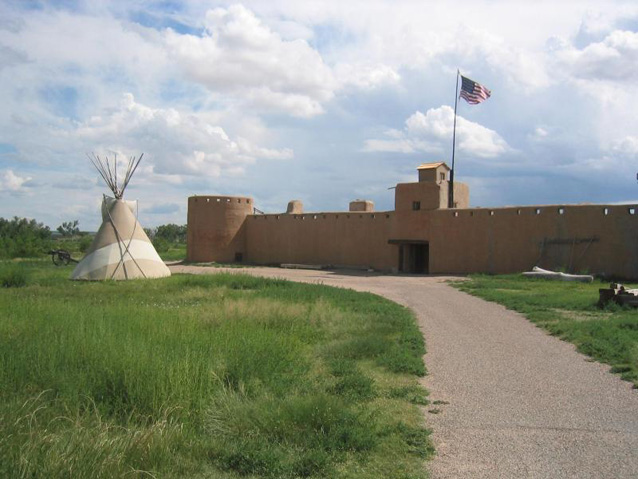 Soldiers
Soldiers used the Trail throughout its 60-year history. They used the Trail during disputes between the Republic of Texas and Mexico in the 1840's, during the Mexican-American War in 1846-1848, and in the American Civil War, as well as during the management of conflicts between traders and Native American tribes (NPS 2009). The Mexican-American War broke out in 1846. The Army of the West, led by General Stephen Watts Kearny, traveled down the Santa Fe Trail to take control of New Mexico and upper California and to protect American traders on the Trail (NPS 2009). Despite warnings to the contrary, he entered Santa Fe unchallenged and attained his objective. The war was ended in 1848 with the Treaty of Guadalupe Hidalgo. As the presence of the military increased with establishment of forts along the Trail, freighting and merchant operations expanded. In 1858 as many as 1,800 wagons traversed the Trail, many loaded with military supplies.
The Civil War reached the West in 1862. The Confederate Army entered New Mexico from Texas and took over Albuquerque and Santa Fe., and hoped to take over Fort Union (and eventually Denver). However, in the most decisive western battle of the Civil War, the battle of Glorieta Pass (on the Santa Fe Trail), the Union stopped the Confederates. The Union Army was able to hold on to the Southwest and its valuable Santa Fe Trail supply line.
Last updated: March 18, 2016