Jim Lynch works for the National Park Service Northeast Coastal and Barrier Network as a coastal biologist and spends much of his time traveling to national parks along the Atlantic Coast to monitor the condition of natural resources like salt marshes.
Measuring Salt Marsh Elevation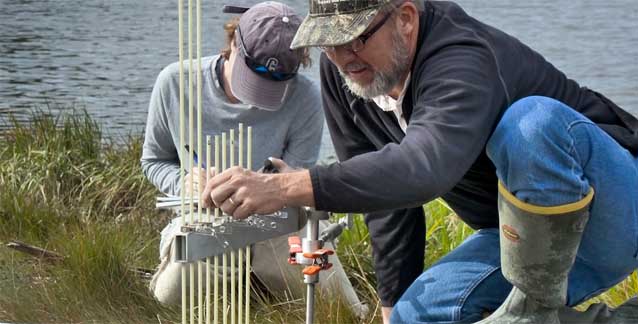 Using a device called a Surface Elevation Table (SET), a portable mechanical leveling device for measuring relative sediment elevation changes, Jim measures whether existing salt marshes are building up sediment fast enough to keep pace with sea level rise. The National Park Service has long relied on SETs to take these precise elevation measurements for monitoring salt marshes across national parks in the Northeast.
In addition to SET measurements, park scientists gather other kinds of elevation data, including absolute ground elevation, which is done with GPS survey instruments. Understanding how salt marshes are responding to sea level rise will help the National Park Service protect these important ecosystems for future generations.
The Northeast Coastal and Barrier Network
This long-term salt marsh monitoring is conducted in national parks in the Northeast by the Northeast Coastal and Barrier Network (NCBN). The NCBN is one of 32 National Park Service Inventory and Monitoring networks across the country, working to provide critical information about the condition of park landscapes, ecosystems, and species which will help managers preserve and protect these resources for future generations.