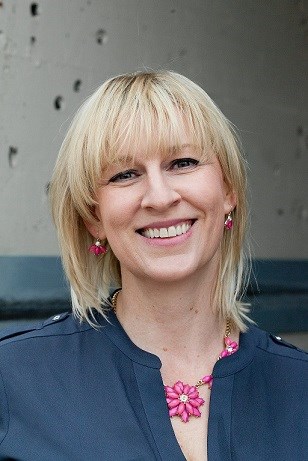 What is your name and job title? Sally Mayberry, Denver Service Center Public Affairs Specialist
What experience and education do you have? I have a bachelor of science in Marketing from Metropolitan State University of Denver and a master of science in technical communications from Colorado State University. Prior to going to college, I worked in the travel industry for seven years as a reservation agent, flight attendant and travel agent. Fast forward to my days after college. For many years, I've worked to intersect my work in the public sector with private sector. In order to do so, I've often volunteered with non-profit organizations such as the Colorado American Marketing Association and a digital media, technology and business organization called SheSays Denver. The marketing and communications field is always changing and in order to do my job best, I try to remain knowledgeable with both industries.
What is a typical day like? In the mornings, you'll likely find me glued to my computer scouring the latest news and industry trends, monitoring and posting to our twitter feed (yes, DSC has an account so please follow us @DenSrvcCtrNPS). I often am writing and/or editing material, interviewing folks and regularly touching base with key project team members, providing any immediate communication needs at both a local or national level.
What career advice would you give to someone who wants to follow a similar path? If you thrive in an ever changing environment, then marketing and communication is likely a good path for you to pursue. Usually you'll find yourself wearing multiple hats and having to research and learn something new on a regular basis. It's good if you crave knowledge as I've found that it can be tucked away in hard to reach places. As with most jobs, flexibility and resilience are key along with building relationships. A good relationship can transform how your clientele engages with you and can help to build a trusting environment that will allow your career to thrive. And always remember to listen. You'll discover much more helpful details by asking open ended questions.
What is one of the bigger projects you are working on and what about that project might surprise people? I am involved with the CityArchRiver project and regularly collaborate with Jefferson National Expansion Memorial Park and our Partners the Gateway Arch Foundation in St. Louis, Missouri. I recently had the opportunity to visit the site and help with a large media tour of the new visitors center, museum, and exhibits that will be open to the public this summer. The building is designed for LEED Gold certification and it will be free to visitors. If you are intersted in seeing the story about how the St. Louis Arch was built, this video shares an interesting story of that.
Anything else you want to add? Follow your passion and don't necessarily settle for a conventional career path. Opportunities take on different shapes and forms so be open to something different or sometimes lateral. Be mindful of how you treat others, it pays to play nice. And lastly, don't be afraid to ask for what you want. You are your own best advocate so follow your gut instinct and have the confidence to go outside of your comfort zone. You may be pleasantly surprised by what's in store.