The climate of the Southwest is changing, affecting the iconic saguaro. Citizen scientists help Saguaro National Park track what's happening.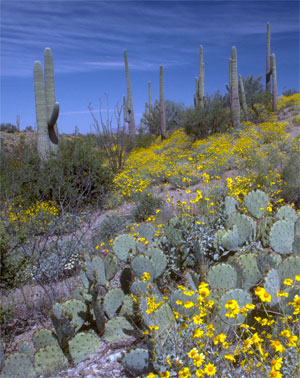 Saguaro National Park was established as a national monument in 1933 to protect the magnificent stand of large saguaros (pronounced "swaro"), known as the "Cactus Forest," in the Rincon Mountains east of Tucson, Arizona. Today, park scientists monitor changes to the saguaros—but they don't work alone. With citizen scientists' help, they collect data on plant populations that helps the National Park Service plan for the future of the park.
Saguaros are in danger because of the changing climate. The saguaro  is a subtropical plant. The adult saguaros that we see today grew up when winters were cooler and the drought less severe than it is now, so they have a high tolerance for extreme heat and drought. Young saguaros, which grew up in a different climate and a changed ecosystem, don't have the same tolerance. But old and young saguaros alike face additional dangers brought by a climate trending toward warm winters and drought conditions. Invasive grasses tolerate the new climate well but add fuel to the fires that saguaros cannot withstand.
Every 10 years, Saguaro National Park hosts a census of its namesake plants. The 2010 Saguaro Census assessed the population of saguaros, as well as the plants in 45 permanent study plots, to better understand the density of plant populations in the park's landscape. Volunteer citizen scientists assisted in field monitoring the plants. Find out the results at the Citizen Science Census results (PDF).
Learn more:
Last updated: February 3, 2015