Protecting Spanish Colonial Missions
"The San Antonio Missions is an extraordinary national and international treasure." Department of the Interior Secretary Sally Jewell
Secretary Jewell Applauds Designation of the newest U.S. World Heritage Site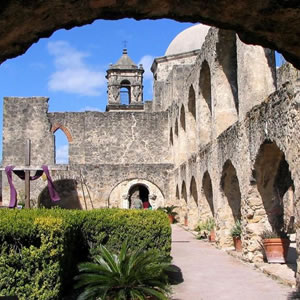 WASHINGTON, July 6, 2015 – U.S. Secretary of the Interior Sally Jewell today applauded the decision by the World Heritage Committee of the United Nations Educational, Scientific and Cultural Organization (UNESCO) to designate a group of five Spanish colonial missions in the San Antonio area – including most of San Antonio Missions National Historical Park and the Alamo – as a World Heritage Site.
UNESCO's World Heritage Committee agreed to inscribe the missions on the World Heritage List by consensus at its 39th session in Bonn, Germany, this past weekend.
"The San Antonio Missions is an extraordinary national and international treasure," said Jewell. "The Missions interweave Spanish and indigenous cultures that are a vital part of America's heritage, and their inscription as a World Heritage Site will draw visitors from around the world to San Antonio, providing an economic boost to the local community."
The group of former missions includes not just active churches, but also farmlands, living quarters, granaries, workshops, kilns, wells, perimeter walls, a cattle ranch and irrigation systems (acequias) that are still functioning after hundreds of years. These achievements were possible through the combined efforts of the Spanish and indigenous peoples living in the missions.
The San Antonio Missions site now joins a list that includes cultural and natural sites of universal importance such as the Grand Canyon in Arizona, the Taj Mahal in India, and the Great Barrier Reef in Australia.
The site is the 23rd World Heritage Site in the United States out of more than a thousand inscribed worldwide. Other recent inscriptions to the list from the U.S. include the Monumental Earthworks of Poverty Point, Louisiana, inscribed in 2014; and the Papahānaumokuākea Marine National Monument, Hawaii, inscribed in 2010. The Papahānaumokuākea is a vast cluster of islands and atolls with surrounding ocean to the northwest of the main Hawaiian Archipelago.
Jewell noted that the Department of the Interior undertook the nomination of the San Antonio Missions with the full cooperation and written support of all the property owners within the boundaries of the nominated area, including the National Park Service, the State of Texas, the Catholic Archdiocese of San Antonio, Bexar County, the City of San Antonio, the San Antonio River Authority, the Espada Ditch Company, the San Juan Ditch Water Supply Corporation, and Los Compadres de San Antonio Missions National Historical Park. Although four of the five missions include active churches, they are all open to the public for visitation.
Then-Secretary of the Interior Ken Salazar announced the Department's intention to nominate the Missions as a World Heritage Site in June 2011.
Last updated: August 25, 2015