By Aviation: From Sand Dunes to Sonic Booms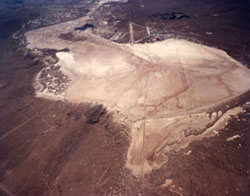 Rogers Dry Lake (also known as Muroc Dry Lake), at Edwards Air Force Base in California, has been used by the U.S. military since 1933 when a small advance party from March Field in Riverside came to design a bombing range for the Army Air Corps. The area proved ideal for flight, with 350 days a year of flying weather and the lake providing a ready-made emergency landing field; four years later the entire Air Corps was performing bombing and gunnery maneuvers here. The south end of the lake was used during World War II for training P-38 Lightning fighter pilots and B-24 Liberator and B-25 Mitchell bomber crews. A realistic 650-foot replica of a Japanese Navy heavy cruiser, dubbed "Muroc-Maru," was used for strafing, identification and skip bombing practices before being removed in 1950.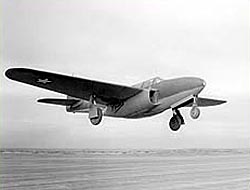 Col. Benjamin W. Chidlaw and Lt. Col. Ralph P. Swofford chose Muroc Dry Lake in 1942 as the testing location for the then secret Bell-built XP-59A jet airplane. In September, America's first turbojet arrived at Muroc. Since 1942, Edwards Air Force Base (Muroc Air Force Base) and its tenant, the NASA Ames-Dryden Flight Research Facility have played a leading role in advancing the capabilities of aerospace technology. Lakebed Runway 18 was typically the landing facility for the X-15, a hypersonic research vehicle that flew for nearly a decade at Edwards. Edwards Air Force Base also served as a support facility for flight operations of the NASA Space Shuttle Orbiter. NASA Space Shuttles, launched from Kennedy Space Center, have utilized Lakebed Runway 23 as a landing strip. Many participants of Edwards Air Force Base's flight testing programs have also played major roles in the American manned spacecraft program, notably NACA-NASA administrator Dr. Walter Williams and test pilot-astronauts Donald Slayton, Michael Collins, Neil Armstrong and Joseph Engle. Rogers Dry Lake made possible the development and testing of generations of American aircraft, leading to the Space Shuttle.

Visit the National Park Service Travel American Aviation to learn more about Aviation related Historic Sites.
Last updated: August 29, 2017