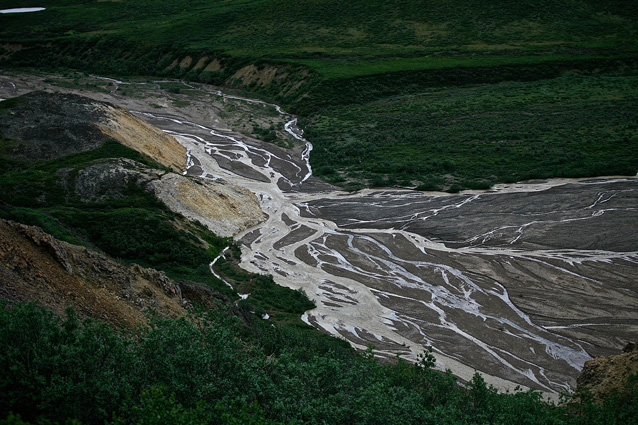 Watch a bull caribou splash up the Savage River. Relax to the gurgle of the creek entering Wonder Lake. Feel the pressure of icy water on your legs as you safely cross a braided river while backpacking. Because Denali's landscapes are rich in rivers and streams, the chances are good you'll encounter wild flowing waters while visiting Denali National Park and Preserve.
Large (rivers) or small (streams and creeks), these waters flowing across the Denali landscape are strongly influenced by their source, the local geology, and processes within the watershed. The water source may be melting glaciers, melting snow, or groundwater springs. The local geology determines the chemical make-up of the water. Processes such as erosion can influence the stability of the stream bed by determining the gradient of the stream, current flow, and substrate particle size.
Types of Rivers and Streams
Researchers have studied the physical habitat and the assemblages of macroinvertebrates (e.g., insects such as midges, mayflies, stoneflies, and caddisflies) for many rivers and streams within the park. The rivers and streams fall into seven types (see next two pages) based primarily on the stability of the stream bed and their water source. These factors also influence the biological communities of the streams. The community composition of fish and macroinvertebrates in a stream (which species and their abundance) can indicate changes in stream environments or watershed processes.
Life in Rivers and Streams
The energy source for macroinvertebrates in the rivers and streams is ultimately sunlight, either via algae and plants growing in the water or from leaf litter that enters the stream from the nearby riparian zone in the fall. Some invertebrates graze on algae or shred leaf litter, while others are predators on other invertebrates.
Many insects have aquatic stages in their life cycle, including mayflies and stoneflies, two groups well known to those who go fly fishing. Arctic grayling are found in many Denali's streams, and much of their diet is aquatic macroinvertebrates. Juvenile arctic grayling are often eaten by birds such as dippers, mergansers, goldeneyes, and kingfishers.