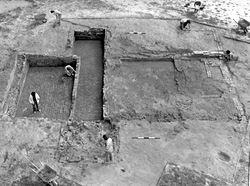 Richneck Plantation is the old plantation seat of the prominent Cary family. Though only the archeological ruins remain, the original house was built during the late 1600s for Miles Cary Jr. (1655-1709). Miles Cary, Jr. held several positions in the government of colonial Virginia, including the rectorship of the College of William and Mary. Cary's grandson, Wilson Miles Cary, was among the patriots that met at Williamsburg's Raleigh Tavern to sign the "Association of 1774"-one of the first acts of the First Continental Congress. Miles Cary and his wife, Mary Milner Cary, are buried in the family graveyard, which is now part of the grounds of McIntosh Elementary School. 
The Cary family stayed at Richneck until the house burned in 1865. One of the descendants noted that, "The mansion was a pile of ruins, though the remains of the walls [were] still standing, I could estimate its former extent. It was a long-fronted, two-storied brick building with the usual outhouses and must have been very commodius." Richneck, like Bacon's Castle, had a cruciform plan. It likely resembled other substantial late 1600s and early 1700s homes in elevation and detail.
The remains of the plantation were discovered during the construction of this school, and the excavation became an instructional project for high school students. Richneck Plantation was listed on the National Register of Historic Places in 1983. The site is located at the George J. McIntosh Elementary School at 185 Richneck Rd. Newport News, VA 23608. The site is open to the public, however, please use discretion and contact the school at (757) 886-7767 before visiting.