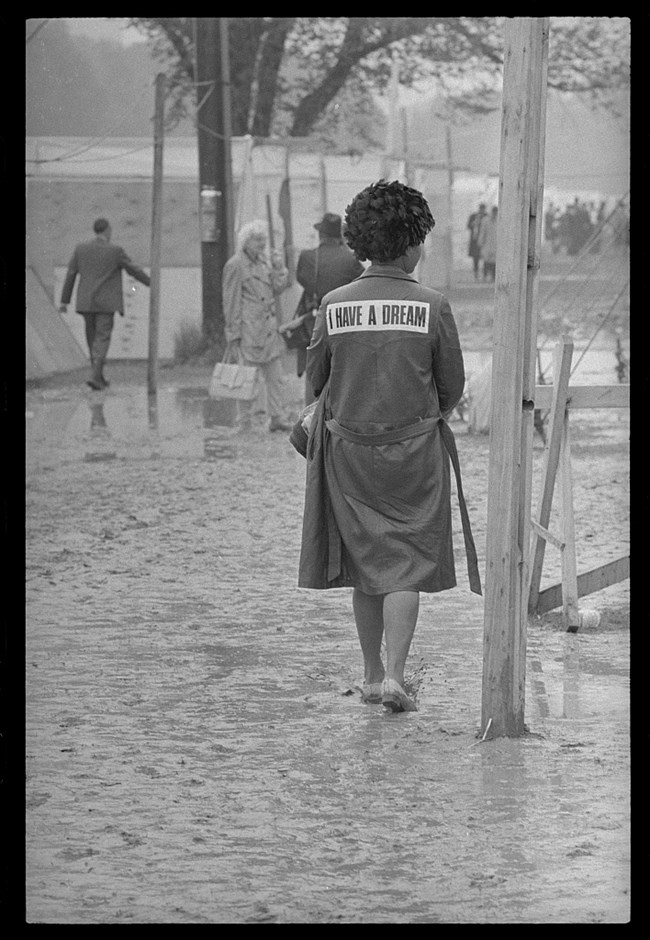 "It was in our wallowing together in the mud of Resurrection City that we were allowed to hear, to feel, and to see each other for the first time in our American experience." -Rev. Jesse L. Jackson.
At the time of his assassination on April 4, 1968, Dr. Martin Luther King, Jr. was in the midst of planning an ambitious direct action campaign with the purpose of expanding the national conversation about Civil Rights in America. His idea was to gather people from around the country and from different races and ethnic backgrounds who shared a common struggle--the problems of poverty. Dr. King's original plan involved an unpermitted (and illegal) occupation of the National Mall by the poor, making the realities of economic inequality visible to the nation's leaders right on their doorsteps. King envisioned mass arrests of the protestors which he hoped would stir sympathy among the American public.
After Dr. King's death, Rev. Ralph Abernathy and the other leaders of the Southern Christian Leadership Conference (SCLC) resolved to move forward with King's vision. However, they altered his plan for civil disobedience and decided instead to apply for a permit with the National Park Service for an extended anti-poverty demonstration. On Friday, May 10, 1968, NPS issued the five-week permit for a "city" built along the Reflecting Pool. Construction of the plywood A-frame shelters, designed by architect John Wiebenson from the University of Maryland, began on Monday, May 13. There would eventually be almost 3,000 dwellings built in the shadow of the Lincoln Memorial, along with other community buildings such as a City Hall, medical facilities, and a dining hall.
Participants began making their way to the Nation's Capital even before the permit was issued. The first group, dubbed the "Freedom Train," arrived on Mother's Day, May 12. That day, Coretta Scott King and Ethel Kennedy led a march organized by the National Welfare Rights Organization through poor neighborhoods of Washington. During a rally at Cardozo High School stadium at the end of the march, Mrs. King called for reform of social service funding, noting that "Congress passes laws which subsidize corporation farms, oil companies, airlines, and houses for suburbia," but was unwilling to make similar investments in programs to help the poor. This disparity in the distribution of government funds became a theme of the Poor People's Campaign.
The next day, protesters began moving into the 16-acre encampment dedicated as "Resurrection City, U.S.A." by Rev. Abernathy. After requesting permission to use the land from a member of the Creek nation, Linda Aranayko, Abernathy drove the first symbolic stake into the ground. The "construction battalion" got to work building the 8 x 20 foot plywood dwellings and setting up water, electrical, and sanitation facilities. Abernathy vowed that the participants would remain "until the Congress of the United States decide that they are going to do something about the plight of the poor people by doing away with poverty, unemployment, and underemployment in this country." It was an ambitious vision.
Donations of money, food, clothing, blankets and other necessities poured in from around the country to support the effort. People arrived to volunteer their time and expertise as well. Doctors, dentists, barbers, and other professionals offered free services to the Resurrection City residents. Building professionals showed up to lend a hand. Local Washingtonians, from high school kids to members of Congress, came by to check out the encampment and ended up picking up a hammer or pitching in wherever help was needed.
The residents of Resurrection City regularly left the encampment and headed out to the various government agencies around Washington, D.C. to demonstrate and lobby for policy change to address the needs of the poor. As they fought side-by-side for better housing, education, food, employment, wages, and health care, they discovered that although their individual circumstances may be very different, their struggles with poverty were similar.
Such understanding did not always come easily, and relations in the camp could be difficult. As "mayor" of the temporary city, SCLC leader Rev. Jesse Jackson guided the residents to work through their difficulties. As he noted, "The first meetings of these different ethnic groups were exciting but tense. The groups were full of fear and mistrust of one another. Each group felt that it had a monopoly on pain and suffering." Together they slowly discovered common ground and unity of purpose.
The Resurrection City demonstrators encountered a number of obstacles throughout their time together. The organizers were unable to construct dwellings and facilities quickly enough to keep up with arrivals of new people. Some participants found themselves waiting outside the city in churches and other donated spaces for a week or more before they could move in. The SCLC scrambled to raise enough funds to keep everyone fed and to provide supplies. The weather refused to cooperate; regular heavy rain turned the city "streets" into a muddy mess.
Perhaps most painful was the assassination in early June of Robert F. Kennedy, a vocal champion and supporter of the Poor People's Campaign. For Civil Rights activists still mourning the death of Dr. King two months earlier, Kennedy's loss was another painful blow. Kennedy's funeral procession stopped at Resurrection City on the way to Arlington Cemetery so that the residents could pay their respects.
Rev. Jackson offered motivational speeches and sermons to lift the spirits of the residents when they got discouraged. It was during one of these sessions that he originated a call-and-response that he would reprise many times throughout his career of political activism. Based on a poem by Rev. William Holmes Borders, the chant prompted participants to repeat, "I Am-Somebody" even if they were poor, or sick, or unemployed. "I Am Somebody" rang out through the camp and re-energized the demonstrators.
The largest event of the protest was a "Solidarity Day" rally at the Lincoln Memorial on June 19, 1968. Over 50,000 people lined the Reflecting Pool on that warm, sunny day. They sang, prayed, and listened to speakers recall the day five years before when Dr. King had given his "I Have a Dream" speech in the same location. "Today is really only the beginning," declared Rev. Abernathy. "We will not give up the battle until Congress of the United States decides to open the doors of America and allow the nation's poor to enter as full-fledged citizens into this land of wealth and opportunity."
A few days later, police shot tear gas into Resurrection City in response to reports of rock-throwing by some young people in the camp. "It was worse than anything I saw in Mississippi or Alabama," remembered SCLC leader Andrew Young, who felt that the law enforcement action was disproportionately harsh. Most of the residents fled the encampment because of the gas. The next day, June 24, a Civil Disturbance Squad arrived to clear the camp. The NPS permit, which had been extended once, was now expired and would not be renewed. Over 300 protesters who refused to leave were arrested without incident while freedom songs played over the camp's loudspeaker.
Because of the many difficulties and unfortunate end, Resurrection City has often been described as a failure. However, the meetings and demonstrations were successful in launching several food and school lunch initiatives. More importantly, the Poor People's Campaign changed the national conversation about poverty and hunger. It united poor people from different communities in common purpose to fight alongside each other for economic justice.
Timeline - Poor People's Campaign, 1968

May 5
The Southern Caravan departs from Edwards, Mississippi with about 450 riders. With this group is Hosea Williams of SCLC and novelist Peter Beagle, who will write an essay about his experience years later.
May 8
The "Freedom Train" caravan of buses leaves Memphis with about 350 people and James Bevel as leader. This group arrives first and includes the "construction battalion" who will begin construction of the A-frame dwellings.
The Midwestern Caravan leaves Chicago. The first stop is a rally in Indianapolis. They pick up riders along the way. When they reach Washington, this group will include over 1000 participants.

May 9
The Eastern Caravan leaves Boston after a rally in that city. The riders include a group from Brunswick, Maine. They stop at rallies around the Northeast during 10 days of travel. About 1,000 people participate in this caravan.

May 10
The National Park Service issues a 5-week permit for the demonstration. It expires June 16, although there is the possibility of extension.
A group of older participants and children from the Southern Caravan who were unable to continue the long journey head straight to Washington from Georgia and stay at Our Lady Queen of Peace Roman Catholic Church in Arlington, VA. They are the first participants to arrive in Washington.

May 12
There is a Mother's Day march through the Columbia Heights neighborhood of Washington, D.C., organized by National Welfare Rights Organization and led by Coretta Scott King. Ethel Kennedy and several other senators' wives participate as does Julie Robinson, wife of Harry Belafonte. "Welfare mothers" from 20 cities, about one-third of them white, and many clergy are among the marchers. The march ends with a rally at Cardozo High School.
The Freedom Train arrives from Memphis after stops in Nashville, Knoxville, Raleigh, NC, and Danville, VA, (the last capital of the Confederacy.)

May 13
At the opening ceremony, Rev. Ralph Abernathy dedicates the site as "Resurrection City, U.S.A." and construction of the dwellings begins.
The Mule Train of 15 mule-drawn covered wagons leaves Marks, Mississippi.

May 15
The Western Caravan leaves Los Angeles. They will travel through Arizona, Texas, New Mexico, and Utah before meeting up with the San Francisco group.
Rev. Abernathy meets with an informal Congressional committee of 72 Senators and Representatives from both parties to discuss the Poor People's Campaign and its goal.

About 100 Black and Indian demonstrators from Resurrection City march to the Capitol to attend a hearing of a Senate Interior Subcommittee. Members of the group testify against a bill intended to encourage commercial development on Indian reservations.
About 600 people are now in residence at Resurrection City.

May 16
The San Francisco contingent of the Western Caravan heads to Sacramento and then Reno, NV, on the way to meet up with the Los Angeles group.

May 17
The "Indian Trail" Caravan leaves Seattle and goes to Spokane, WA. The San Francisco Caravan arrives in Salt Lake City. They visit Billings, MT, Bismarck, ND, Minneapolis, MN, Madison, WI, and Toledo, OH, and then join the Western Caravan.
Rev. Bernard Lafayette, one of the SCLC coordinators of the campaign, announces that construction is behind schedule and they are in need of immediate financial donations to continue. About 206 dwellings are complete. Arrangements to house the participants, who are due to arrive in D.C. soon, in various churches around the area are made.

May 18
The San Francisco and Los Angeles branches of the Western Caravan join up in Denver. They visit Missouri and Kentucky before a rendezvous with the Indian Trail group.
The Midwestern Caravan arrives in Washington after traveling through Kentucky, Ohio, Michigan, Pittsburgh, and Baltimore. Upon arrival, the group of participants total about 1,100.

May 19
The Southern and Eastern Caravans reach the Washington, D.C. area.

May 21
About 300 marchers from Resurrection City led by Rev. Jesse Jackson are denied entrance into the Capitol because they don't have passes. They stage a brief sit-in but leave without any arrests.
About 2600 people are now residing in Resurrection City. About 150 of the original participants have left.
Rev. Abernathy announces that a demonstration planned for Memorial Day has been postponed until June 19, after the expiration of the initial permit, indicating that they intend to stay longer than 5 weeks.

May 22
About 200 young people originally from Chicago and Detroit are expelled from Resurrection City because of hostile and intimidating behavior and are sent home. This frees up room for people who had arrived from the Southern Caravan and have been housed at churches in Virginia awaiting dwelling space at the encampment. They visit John F. Kennedy's grave at Arlington Cemetery and then march across Memorial Bridge to Resurrection City.
Sidney Poitier, Rep. George Bush, and two other Republican Congressmen visit the site.
May 23
The Western Caravan, which now includes the Indian Trail group, arrives in D.C. with about 800 participants.
June 6
Robert Kennedy dies after being shot the evening before.
June 8
The funeral procession for Robert Kennedy stops at Resurrection City on the way to Arlington Cemetery.

June 15
The Mule Train reaches Atlanta, GA. Passengers, wagons, and mules all board a train for D.C.

June 16
The original permit expires. The National Park Service extends the permit until June 23.

June 17
The Mule Train reaches D.C.

June 19
Solidarity Day rally at the Lincoln Memorial. Over 50,000 are in attendance. Speakers include Coretta Scott King and Rev. Ralph Abernathy.

June 23
Police shoot tear gas into Resurrection City in response to reports of rock-throwing and other violent behavior by some young people in the camp.

June 24
Resurrection City cleared by police. Over 300 are arrested peacefully including Rev. Abernathy.
Last updated: May 31, 2019