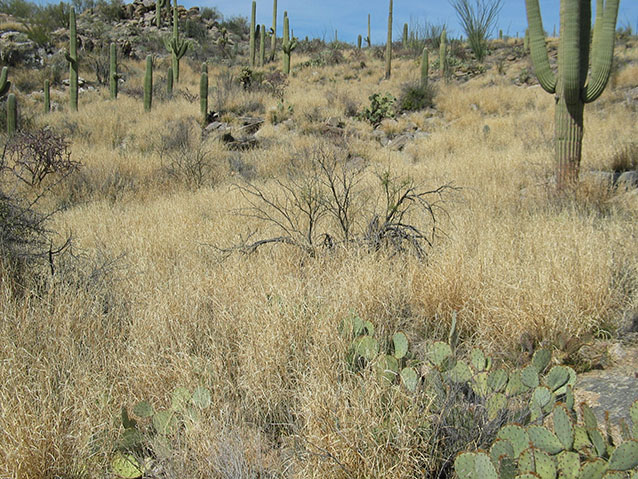 Department of Interior Resilient Landscape Program (RLP) funding for the Southern Arizona Resilient Landscape Collaborative for 2016 has been allocated to Saguaro National Park, the Coronado National Forest, the Tohono O'odham Nation, Buenos Aires National Wildlife Refuge, the Bureau of Land Management, Northern Arizona University, and the Southern Arizona Buffelgrass Coordination Center. Additional partners in the project include Pima County, and the United States Geological Survey.
Federal lands in Southern Arizona and the Tohono O'odham Nation will use the funding to pull and/or spray buffelgrass. The US Forest Health Program will assist the Catalina District of the Coronado National Forest, Buenos Aires Wildlife Refuge, and the San Xavier District of the Tohono O'odham Nation with aerial mapping of buffelgrass. In addition, Northern Arizona University, in partnership with the US Geological Survey and the National Park Service, will be developing a method for using fine-resolution satellite imagery to help detect new occurrences of buffelgrass and monitor the effectiveness of and the need for further control efforts. The Southern Arizona Buffelgrass Coordination Center will help with coordination, reporting, and outreach efforts including educating the public and generating citizen science and volunteerism.
"Southern Arizona Resilient Landscapes Collaborative work will protect native plant and animal communities from being displaced by invasive buffelgrass, protect the natural fire regime, and prevent large, intense wildfires from converting a biologically rich, fire-sensitive habitat into a near-monoculture and highly flammable grassland," said Saguaro National Park Superintendent Darla Sidles.
"This project will help prevent damage to private property, utility corridors, and the area's tourism based economy," added Southern Arizona Buffelgrass Coordination Center Executive Director Lindy Brigham.
This Collaborative supports the primary, national goals of the National Cohesive Wildland Fire Management Strategy. The work plan relies upon the collective knowledge, experience, and past successes of all collaborators working towards maintaining a fire resilient landscape.
For more information about the integrated management approach to control buffelgrass in Southern Arizona, please visit www.buffelgrass.org or https://www.doi.gov/wildlandfire/wildland-fire-resilient-landscapes-program.