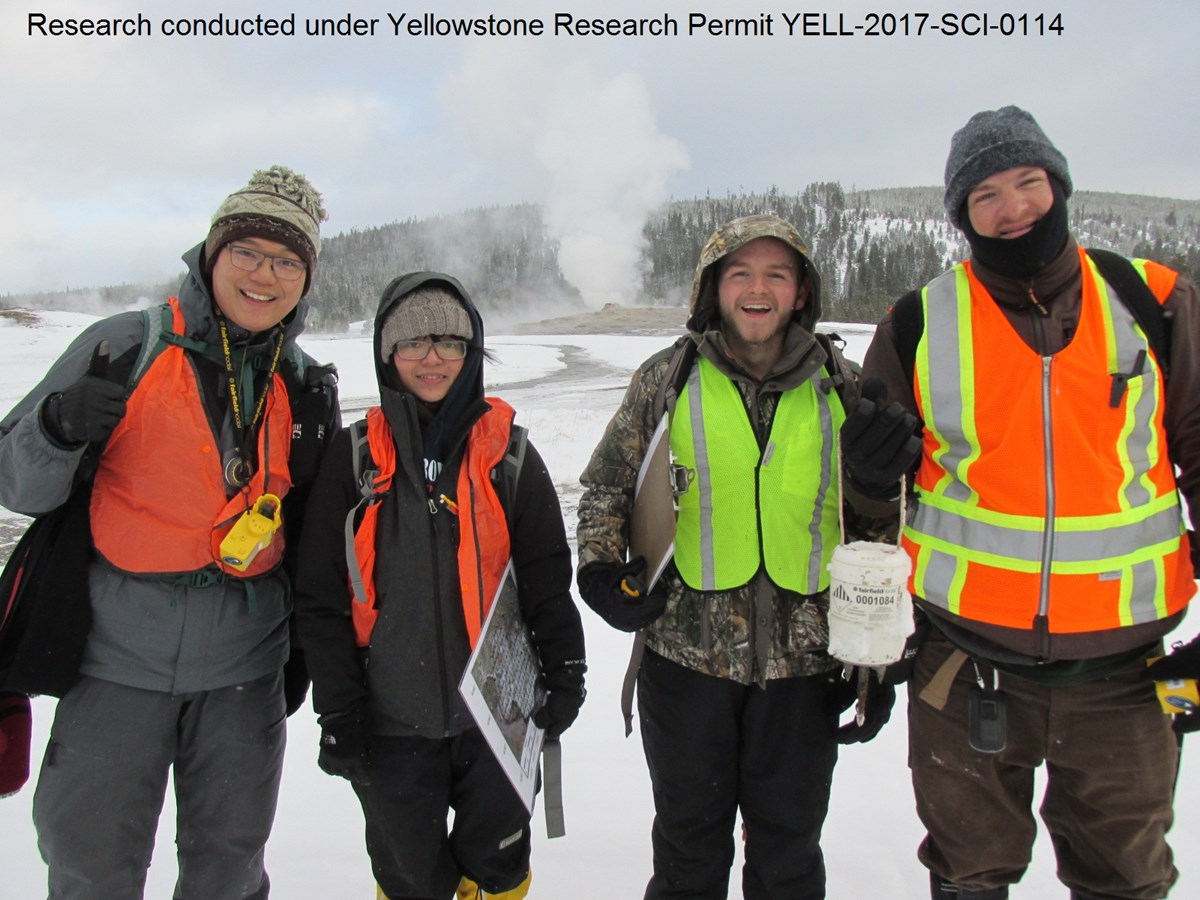 Research Report:
Using seismic waves to map the ground below Old Faithful Geyser
Research Permit Number:
YELL-2017-SCI-0114
Principal Investigators:
Dr. Robert Smith and Dr. Jamie Farrell
Affiliation:
University of Utah
Continuing fieldwork conducted in 2015 and 2016, researchers from the University of Utah and the University of Texas El Paso returned to Yellowstone's Upper Geyser Basin in November of 2017. They are studying seismic activity around the highest concentration of geysers in the world.
The research team utilizes small temporary seismometers, which are roughly the size of a football. Out of the 291 seismometers available, the team deployed 290; only one was not functioning. They arranged a dense array around the thermal features of Geyser Hill. They also placed seismometers elsewhere in the Upper Geyser Basin and along the main road from the Old Faithful area toward Madison Junction.
Due to the dangers of traveling off of established boardwalks in thermal areas, the team prioritizes safety and communication. Yellowstone National Park requires this research activity to occur while the interior roads of the park are closed to the public in November, although you might catch a glimpse of the researchers on the Old Faithful webcams.
Data gathered during the 2015 fieldwork have already revealed new insights, including the presence of an enormous underground reservoir of heated water thought to supply the water for Old Faithful Geyser's eruptions. Learn more at
https://unews.utah.edu/old-faithful/
.
_______________________________________________________________________
Note: This group operates under an approved research project. It is the policy of the National Park Service to guarantee that management of parks is enhanced by the highest quality scientific information. Understanding our natural and cultural resources is vital to improving park management and expanding scientific knowledge. Specifc research activities conducted by non-NPS staff must be approved in advance through the Yellowstone Research Permit Office. For more information visit the research permitting policy page.