Reptiles and Amphibians - Sources of Distribution and Life History Information
Field Guides and Species References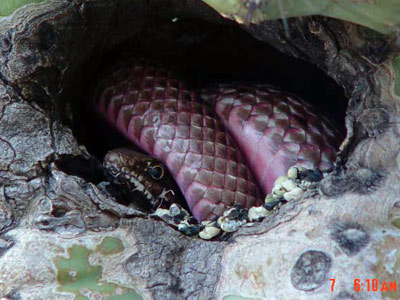 Field guides for herpetofauna range from general guides to those specializing in particular geographic areas or taxonomic groups. Here are a few field guides or books with species accounts covering parts or all of the American Southwest:
A Field Guide to Western Reptiles and Amphibians. 2003. The Peterson Field Guide Series. Third Edition. Text and Illustrations by R. Stebbins. Houghton Mifflin Company.


A Field Guide to Amphibians and Reptiles in Arizona. 2006. By T.C. Brennan and A.T. Holycross. Arizona Game and Fish Department, Phoenix, Arizona.


Amphibians and Reptiles of New Mexico. 1996. By W. Degenhardt, C. Painter, and A. Price. University of New Mexico Press. Albuquerque, New Mexico. Amphibians and Reptiles in Colorado, a Colorado Field Guide. 2000. By G.A. Hammerson. Second Edition. University Press of Colorado.


Amphibians and Reptiles of Texas. 2000. By J.R. Dixon. Texas A&M University Press.


Lizards of the American Southwest, a photographic field guide. 2009. Edited by L.C. Jones and R.E. Lovich. Rio Nuevo Publishers, Tucson, Arizona.



A Natural History of the Sonoran Desert. 2000. Edited by S.J. Phillips and P.W. Comus. Arizona-Sonora Desert Museum. Arizona-Sonora Desert Museum Press, Tucson, and University of California Press, Berkeley and Los Angeles. Pages 533-585, by C. Ivanyi, J. Perry, T.R. Van Devender, and H. Lawler, provide amphibian and reptile species accounts.
Electronic Resources
A sampling of resources available on the internet include:
Prepared by Patricia Valentine-Darby, Southern Plains Network Inventory and Monitoring Program, 2010.
Series: Reptiles and Amphibians of the American Southwest
Last updated: May 21, 2015