Repairing History, Rebuilding Lives: HOPE Crew Celebrates 100th Project at Fort Monroe National Monument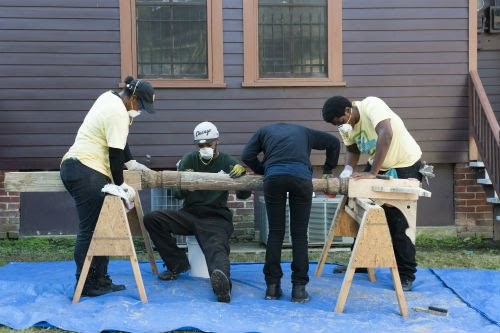 On Monday, June 19, Fort Monroe National Monument will host the celebration of the 100th project by Hands-On Preservation Experience, or HOPE Crew. This initiative of the National Trust for Historic Preservation, in partnership with The Corps Network, engages youth in the historic preservation trades under the guidance of experts in the field. Five HOPE Crew members will undertake carpentry work on the front porch and masonry repairs to the pillars of Building 50, which was originally constructed in 1834 and used as a living quarters. The structure is one of the earliest structures on the parade grounds.
The event will take place on "Juneteenth," which commemorates the abolition of slavery in Texas and the emancipation of enslaved African-Americans throughout the former Confederacy. Fort Monroe is where enslaved Africans first landed in Virginia in 1619 and played a significant role in the Civil War.
Terry E. Brown, superintendent of Fort Monroe, noted, "This effort supports my commitment to the Hampton community to provide young people with specialized training to develop the advanced skills they need to be productive, engaged, and successful citizens in college, career, and life."
That is because this project is far more than the passing of an odometer, but part of a larger vision. Fort Monroe will become a base camp for HOPE Crew to train local youth, ages 18-25, in preservation trades. "The eventual goal, said HOPE Crew Director Monica Rhodes, "is to build a workforce in the Hampton Roads area that can assist other parks in the region with their preservation needs."
Now in its fourth year, HOPE has empowered over 600 young people and veterans in preservation trades, and helped to support over $14.3 million dollars of preservation work. These projects also address deferred maintenance needs at national parks, repairing infrastructure to maintain the historic character of the parks and to increase the enjoyment and safety of visitors.
Six local and national youth participants recruited by the Student Conservation Association will work on masonry repointing, painting and replacing wooden components. Employees of the National Park Service Historic Architecture, Conservation and Engineering Center (NPS HACE) will direct and supervise HOPE employees, using hands-on training lessons developed for the Stephen T. Mather Building Arts and Craftsmanship High School in New York City. Richard Chilcoat, chief of construction, conservation and training at HACE, stated, "We welcome the opportunity to mentor and engage local youth in this hands-on service and to have a role in building the next generation of preservation leaders."
In addition to preserving historic buildings, the HOPE Crew program promotes knowledge and skills that have traditionally been passed down through apprenticeships – skills that are increasingly being lost as the experts in those fields retire.
"The types of skills that I've picked up have been tuckpointing, masonry, brick grinding, and things like that. I'm really learning what it takes to be a brick mason," shared James, a member of the Northwest Piedmont Service Corps, who worked on a preservation masonry project at Raleigh National Cemetery in North Carolina last winter.
In addition to learning technical work skills, members learn "soft" skills such as mentoring, teamwork, and other life skills. Ti'Kerria, a member of the Citizens Conservation Corps of West Virginia, worked on window restoration at Prince William Forest National Park. She commented, "HOPE Crew will make me more independent. I know now I have skills I can use in a household, without calling for help. This job can be difficult with the heat and the bugs, but it has given me a chance to meet new people and see a new way of doing things."
Last updated: January 10, 2018