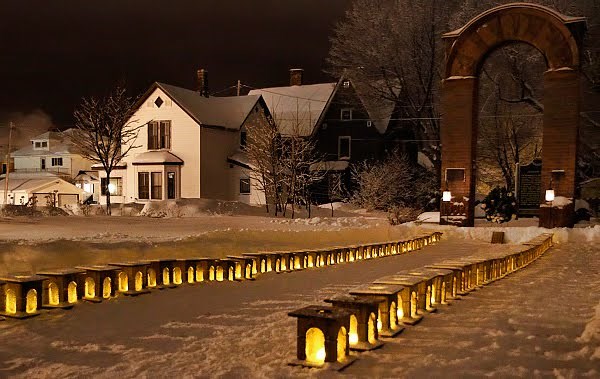 1. Good research is fundamental to good history and interpretation.
As the centennial of the bitter labor strike approached, historians began to question long-held beliefs about why so many people perished at Italian Hall that day. The research was complicated, forcing them to navigate contradictory primary sources, the building's controversial demolition in 1984, and provocative interpretations about the tragedy, including the Woody Guthrie song, "1913 Massacre".
2. Meaningful ceremonies acknowledge and connect with the community.
A number of municipal and civic organizations help plan the annual commemoration. The event, held at the Italian Hall Site, evokes century-old feelings of loss while luminaries representing each victim illuminate the winter night. During the 100th anniversary commemoration in 2013, a nearby church where many of the funerals took place in 1913 held a requiem mass.
3. Memory and memorialization shape our experiences in and around historic sites.
Those who died in 1913 are still part of the Copper Country's living memory. At the park's visitor center, community members can share their personal thoughts in a remembrance book. Park staff have assisted the Village of Calumet, which owns the Italian Hall Site, with designing an interpretive wayside and planning landscape improvements.
4. We confront conflict and controversy through continuous research and interpretation.
What happened on Christmas Eve 1913 is still up for debate. What we do know is that how we see and interpret the past changes over time as we consider familiar evidence and discover new sources which bring to light new perspectives and spark contemporary questions. The park places the event in context through museum exhibits, waysides, and interpretive programs.
Back to the History Discover Events Gallery
Back to the Series: Best Practices for History Lessons and History Discovery Events.