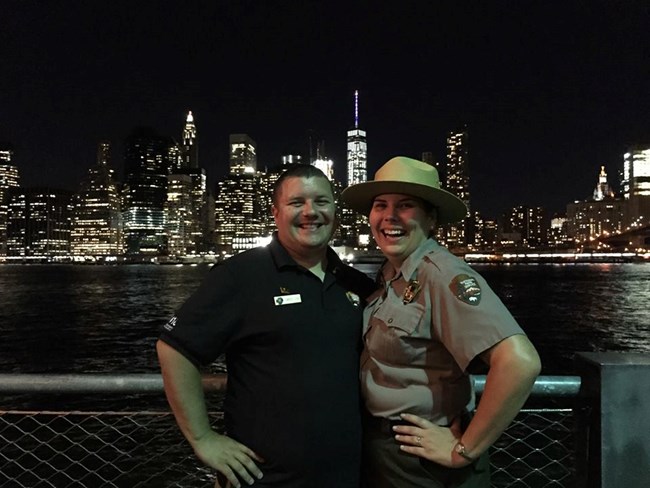 When you are a military spouse, there are moments that you look forward to where you can stand beside your spouse as you mark milestones together. One thing I have learned after being a military spouse for nearly a decade is that seizing the moment is important, because your circumstances will change. At any given time you are preparing to move to a new duty station, or unexpected trainings come up, and deployments are often on the horizon. Then you can add into the mix what may be happening in your family, or your own career, and it is pretty clear that you will miss some moments you did not want too. Knowing I have missed moments, I was very excited about the upcoming reenlistment of my husband.

Allow me to introduce myself. I am Karissa DeCarlo, a Partnership Specialist with the National Park Service and my husband SSgt Dwight Loar is active duty US Air Force. Just as we began talking about reenlistment, I began to envision a special day coming our way where our two worlds were going to blend together. We have long supported each other, with SSgt Loar volunteering at nearly every national park I have worked at, but this felt different. Knowing that national parks are regular locations for military ceremonies such as reenlistments, I started to do a little research. A few email exchanges with rangers from World War II Valor in the Pacific National Monument detailed what options were available to those interested in holding a reenlistment at the park. After getting connected with the US Navy contact, as they manage the ferry service to the USS Arizona, we were excited to find out our schedule meshed perfectly with the opportunity to hold the reenlistment early in the morning at the memorial.

As the plan started to take shape, my husband SSgt Loar and I took on other planning details. He checked with his superiors and ensured an officer would be able to join us to administer the Oath of Enlistment. Additional arrangements were made to have the proper paperwork in place and a hardcopy ready for signature upon administration of the oath. We checked into flying a flag at the memorial and made sure we ordered a personal flag that met the allowed specifications well in advance. We both took extra effort to ensure SSgt Loar's uniform was in top condition, ordering a new shirt, ribbons and nameplate. Of course, the National Park Service staff did not need to worry about any of this one bit, but I wanted to share that all this preparation was going on in the background.