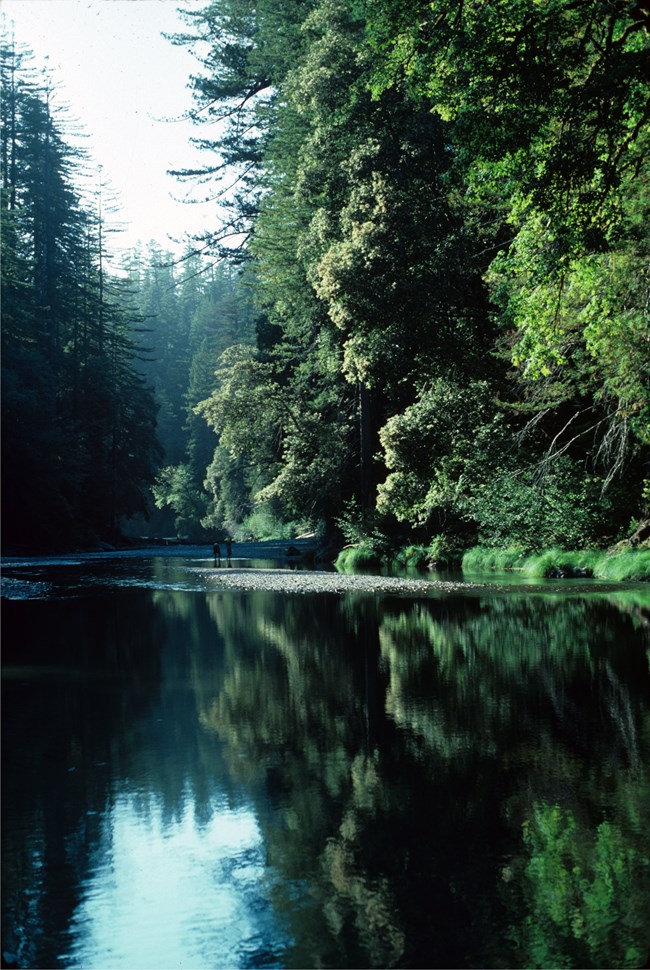 Redwood National and State Parks preserve some of California's magnificent redwood trees -– the tallest and among the most impressive trees in the world. The parks were established specifically to protect these trees since it is only here and in Oregon that they now survive.

The protected areas transect two distinctive environments -– the coastline of the Pacific, and the mountains of the Coastal Range. The parks' 55 kilometer (34.2 mile) coastline consists of steep, rocky cliffs broken by rolling slopes and broad sandy beaches. The coastal redwood forests dominate the parks' landscape. There are 15,800 hectares (39,000 acres) of old-growth redwood in the park. These redwoods are surviving remnants of the group of trees that were once found throughout many of the moist temperate regions of the world, but are now confined to the wet regions on the west coast of North America.

The parks also reflect the early and more recent use of these now protected trees. Indian peoples used fallen redwood trees to build canoes and houses. The scars of early commercial logging during the gold rush era remain.

The Redwoods World Heritage Site provides a unique experience for any visitor. These enormous trees transcend human scale and dominate the imagination like few other places. They stand as reminders that the legacy of the earth's oldest living things -- trees whose ancestors date back to the age of the dinosaur –- came very close to extinction and require continued protection.

Among the redwood trees of the park are traces of ancient human activity and more recent history. The redwood forests served as home to humans for thousands of years. Evidence of human activity inside Redwood National Forest dates back as far as 2,500 BCE. The people who lived in the forest before European colonization used the forest's resources, such as fallen redwood trees, to build canoes and houses.

Timber harvesting became very profitable in the forests when Americans flocked westward during the gold rush in the 1850s. By 1853, nine sawmills were operational in Eureka. The redwoods, due to their size, were a popular source of timber. In Del Norte Coast Redwoods State Park, the remains of the Del Norte Southern Railroad, which transported lumber to a mill in Crescent City, can be found along the park's Trestle Loop Trail.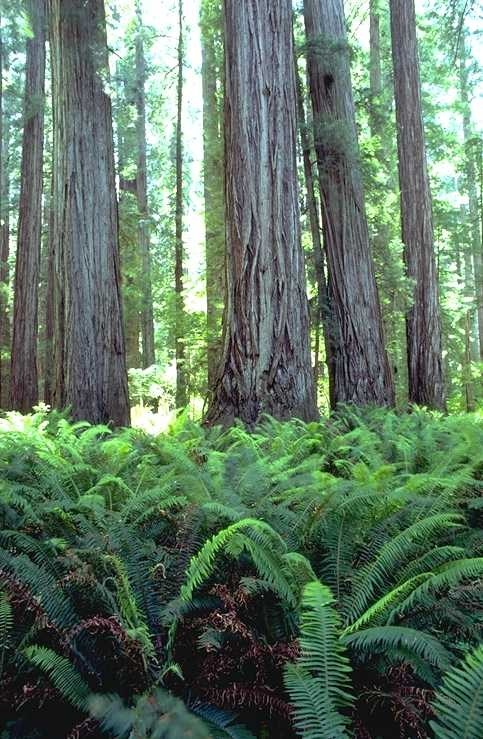 In Redwoods National and State Parks, historic resources include sites associated with historic gold mining, ranching, the Civilian Conservation Corps, a fish hatchery and more. In the Bald Hills near Redwood Creek are ranches associated with late 19th century cattle and sheep ranching. The Lyons' Ranches Rural Historic District includes eight structures dating to the late 19th and early 20th centuries. Murphy's Ranch and outlying barn site, which dates circa 1884 to the 1920s, was established along the historic Kelsey Trail, a pack route linking Crescent City with the Salmon and Trinity gold mines. A remnant of the Trinidad Trail connects to the park's Tall Trees Grove Trail. Trinidad Trail connected coastal supply centers with early gold mining sites, and was later adopted by homesteaders in the Bald Hills.

The Prairie Creek Fish Hatchery, listed in the National Register of Historic Places, was one of the first small local hatcheries developed to improve sport and commercial fishing in the area. The hatchery, constructed in 1936, is one of only three remaining hatcheries that were built in California from 1871 to 1946. The Prairie Creek Redwoods State Park Visitor Center and associated structures are historic examples of Civil Conservation Corps construction carried on in the state parks during the 1930s. A World War II early warning radar station, Radar Station B-71, sits atop an ocean bluff south of Klamath. The site consists of two structures and other military features, including radar antennas and two machine gun emplacements.

From the rare Redwood forests and vibrant wildlife, to the scenic and rocky beaches, there is plenty for the visitor to enjoy. The National Park Service and California State Parks manage the parks. The Kuchel Visitor Center, one mile south of Orick, is the largest visitor center. It offers visitors exhibits, a 12 minute video, and beach access. For a scenic drive, visitors can cruise Howland Hill Road, a 10-mile scenic tour through old-growth redwoods along Mill Creek. Wildlife can be seen throughout the park. The Klamath River Overlook is a popular spot for watching gray whales during their migration and Davison Road is a prime location to spot a Roosevelt elk that populate Elk Meadow.

Redwood Park Page: https://www.nps.gov/redw/index.htm

World Heritage Information: https://whc.unesco.org/en/list/134