By Aviation: From Sand Dunes to Sonic Booms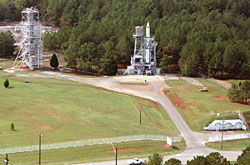 The Redstone Test Stand is the oldest static firing facility at the Marshall Space Flight Center, in Huntsville, Alabama. Constructed by the Ordnance Guided Missile Center at Redstone Arsenal and transferred to the National Aeronautics and Space Administration (NASA) in 1960, the Redstone Test Stand was the first test stand in the United States to accommodate the entire launch vehicle for static tests. Prior to this, test stands had accommodated the engine only. The Redstone Test Stand was an important facility in developing the Jupiter C and the Mercury/Redstone vehicles that launched the first American satellite and the first American manned space flight, along with developing the launch procedures vital to manned space flight.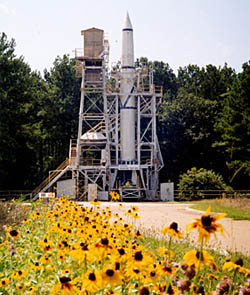 After the USSR opened the space age in October 1957 by orbiting Sputnik I, the Army Redstone Team led by Dr. Werner von Braun was directed to attempt a satellite launch, a feat accomplished on January 31, 1958. The Mercury/Redstone vehicle was tested at the Redstone Test Stand and two of these vehicles eventually carried men into space. As the space program grew and expanded, more sophisticated test sites were required. The Redstone Test Stand was phased out of the active test program in 1961 and all usable equipment was removed.

Visit the National Park Service Travel American Aviation to learn more about Aviation related Historic Sites.
Last updated: August 29, 2017