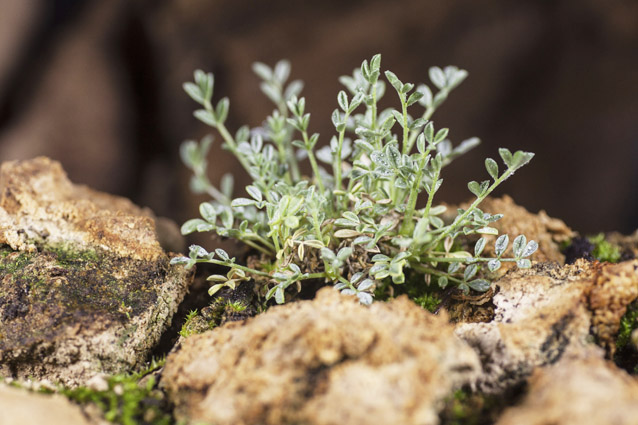 Sentry milk-vetch (Astragalus cremnophylax Barneby var. cremnophylax Barneby) was listed as an endangered species on December 5, 1990 (55 FR 50184-50187) pursuant to the Endangered Species Act of 1973, as amended (16 U.S.C. 1531 et seq.). In 2006, when the sentry milk-vetch recovery plan was published (U.S. Fish and Wildlife Service 2006), the plant was known to be found at only three locations on the South Rim. Since that time, additional populations of sentry milk-vetch have been discovered on the South and North Rims. Currently there are five wild populations on the North Rim, four wild populations on the South Rim, and three introduced populations on the South Rim.
A summary of the 2016 field season accomplishments is presented here.
Maricopa Point Annual Monitoring. Maricopa Point was monitored by the Grand Canyon National Park vegetation program staff in May. A total of 1150 SMV were recorded, up from 935 in 2015. Combined with reintroduced plants, this brings the total population of sentry milk-vetch plants at Maricopa Point to 1,524, with all but 146 of the wild plants and 5 of the reintroduced plants outside the transect boundaries tagged to facilitate long-term monitoring.