Structural Fire Program Seeks Assistance in Recording NPS Structure Fire Losses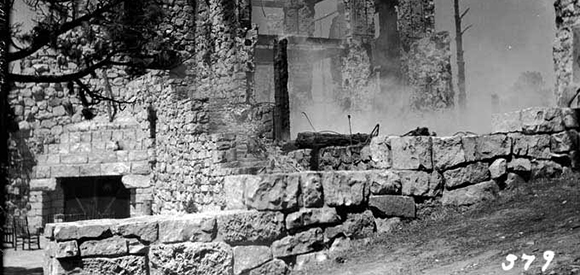 Do you recall a major structural fire incident during your career with the National Park Service? Did it result in the loss of or significant damage to a park-owned structure? Do you have historic documents, photos, local newspaper articles, old incident reports, or other documentation related to the incident tucked in the back of the park's library, stuffed in that old metal filing cabinet in the corner, or piled in the unoccupied office where everything gets stored?
If so, the NPS Structural Fire Program would appreciate your help in recording this information in a centralized database. The NPS preserves the history and stories found across the landscape of our nation. We have not done a good job of documenting our structural fire losses. Stories of loss and destruction are not pleasant. However, structural fires are preventable and lessons can and should be learned from their occurrence. We have an important story to tell, but we need your help to fill in the details.
We continue to hear stories about structural fires in NPS-owned or -managed buildings that occurred before the early 1990s when the NPS started collecting information in a national database. Information on these fires can be found only in park libraries, museum collections, office files, and the memories of employees, volunteers, concessionaires, retirees, and former employees who remember their occurrence.
The newly developed database will serve as a repository of historic structural fire incidents that resulted in damage and/or loss to NPS structures. The information gathered will be used to strengthen the NPS Structural Fire Program by:
Increasing our knowledge of historic structural fires, especially those that occurred before we started tracking incidents, to fully understand the depth and breadth of our losses, many of which have been significant.
Applying lessons learned from each incident, especially trends in fire causes, to improve servicewide fire prevention efforts and direct resources and educational messages where they are most needed.
Collecting information to integrate into established educational outreach, such as Prevention 52, Structural Fire Flashback, Fire Prevention Week, and Fire Safety Alerts, and to augment future educational offerings and training programs.
Information pertaining to a historic structural fire incident can be submitted via e-mail.
If you have photographs, investigative reports, newspaper clippings, or other supporting documentation that will give a more comprehensive view of the fire incident, send a scanned version of the materials to the following address:
Attn: Historic Database Project
Structural Fire Program
National Park Service
3833 S. Development Avenue
Boise, ID 83705
Permissions for use of personal photographs, taken outside of work hours, must accompany photos. Only send copies/duplicates of photos and documentation; information will not be returned to the owner. This is an ongoing project, so as you come across items of interest, they will be accepted now as well as in the future. Thank you in advance for assisting us with the collection and documentation of NPS structural fire history.
Last updated: January 26, 2017