Ronald Reagan Motivation on the Home Front in World War II
Inspiring Americans from War to the Presidency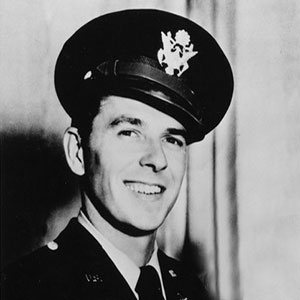 Ronald Reagan enlisted in the US Army Reserves in 1937.  He quickly advanced from private to second lieutenant and was assigned to a cavalry unit in Des Moines, Iowa. It was during this time that he moved to Los Angeles to begin his film career where he transferred to yet another cavalry unit as a young officer.  
Soon after the United States declared war on the Axis powers, Lieutenant Reagan was ordered to active duty in early 1942. Eager to continue as a cavalry officer, the young officer discovered that due to eyesight difficulties, he was classified for limited service only.  This would exclude him from serving overseas.
Undaunted, Ronald Reagan insisted on finding a way to serve his country as an Army officer. After a brief assignment in San Francisco at Fort Mason, California with a cavalry unit, he received a request from the Army Air Forces (AAF) in search for skilled public relations officers.
It was here that Lieutenant Reagan found his calling as a gifted spokesperson and motivational leader for the war effort.   Soon Reagan's commanders noted his acting abilities and reviewed his earliest motion picture work which included a dozen films from 1937 – 1942.  This included "Recognition of the Japanese Zero Fighter" (1942) portraying Lt. Sanders and Reagan's narration for both "Beyond the Line of Duty" and "Cadet Classification" (1942-43).  His Academy-Award nomination for his role as Lieutenant Ames in the 1943 film "Rear Gunner" most likely sold every one of his immense talent.  Impressed, he was assigned to AAF Public Relations and subsequently to the 1stMotion Picture Unit in Culver City, California.
Reagan's first film in his capacity officially supporting the war effort at home was "This Is the Army" produced by Hal B. Wallis, Jack L. Warner, and directed by Michael Curtiz which was an adaptation of a wartime stage musical.   The War Department noted the box office success' effect on boosting morale.  Ronald Reagan and actor Alan Hale, Sr. were both lauded for their performances. The film was an Academy Award Win-Scoring of a Musical Picture; Academy Award Nomination-Best Sound.    
In January 1944 Ronald Reagan was promoted to Captain.  He served with the War Department's command in New York City to participate in the opening of the sixth War Loan Drive. Home front economics in times of war are challenging at best. The United States government at the direction of President Franklin Roosevelt knew
if Americans did not sacrifice some personal economic needs and show a willingness to invest in their government to fund the war effort, the United States could easily fall short in supplying the allied effort which at various times during the war was on the brink of collapse. The answer was war bonds issued by the government to finance military operations and other expenditures. The bonds also removed money from circulation and to help to control inflation. The government needed the conviction of a dedicated military officer combined with someone who could inspire and motivate.  People were being asked to sacrifice to support their nation.  It wasn't always easy.  Ronald Reagan did more behind the scenes to bring people together and ensure the war effort was continually funded in a way that ensured a timely end to years of devastation and misery.  He was one of thousands of unsung heroes behind the scenes.         
In 1945 Reagan was promoted to the rank of major.  He continued to provide narration for patriotic films to include Target Tokyo, The Fight For The Sky, The Stillwell Road, and Wings For This Man all produced in 1945.
Ronald Reagan would again put these skills to the test when he assumed the U.S. Presidency in 1980.  The nation was at an emotional low point following the Viet Nam war and domestic unrest.  Americans were uncertain of their futures.  Inflation was out-of-control.  The national image needed a face lift.  People needed something to believe in.  Undoubtedly President Reagan drew upon his services during World War II to help inspire a nation for a second time.     
Last updated: November 18, 2015