Article
Reef Bay Trail Rehabilitation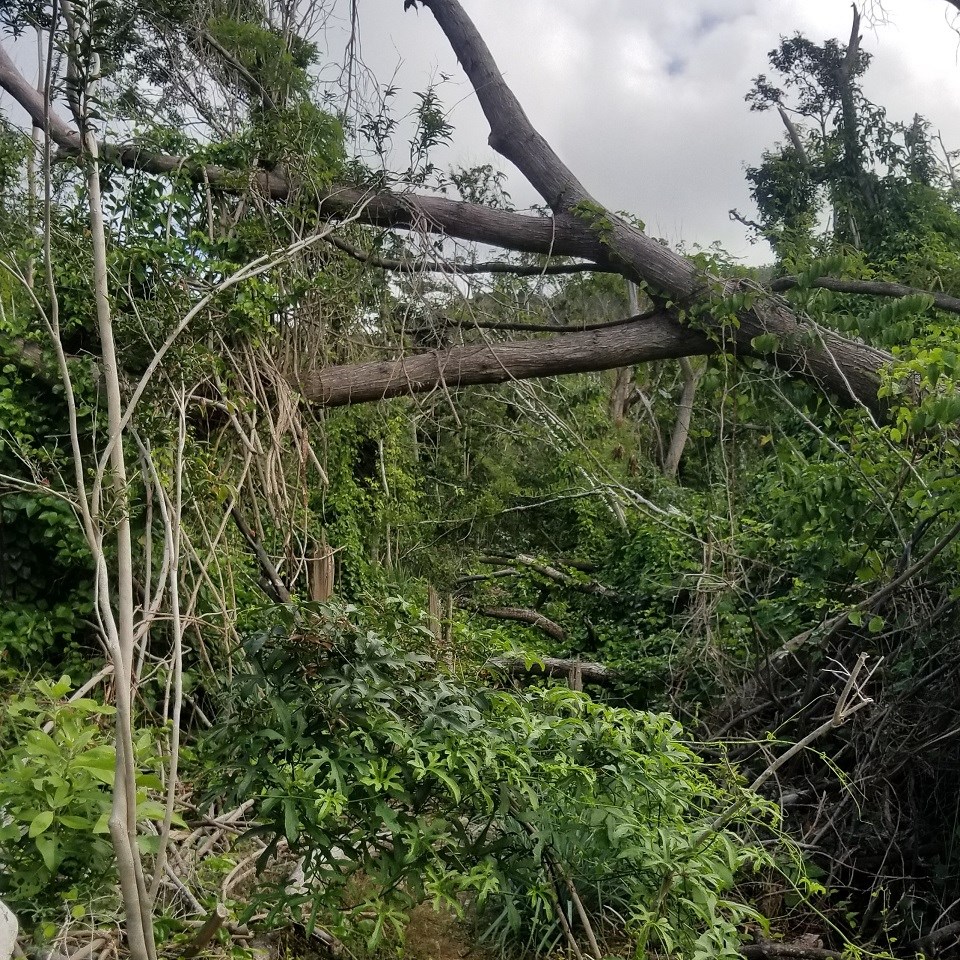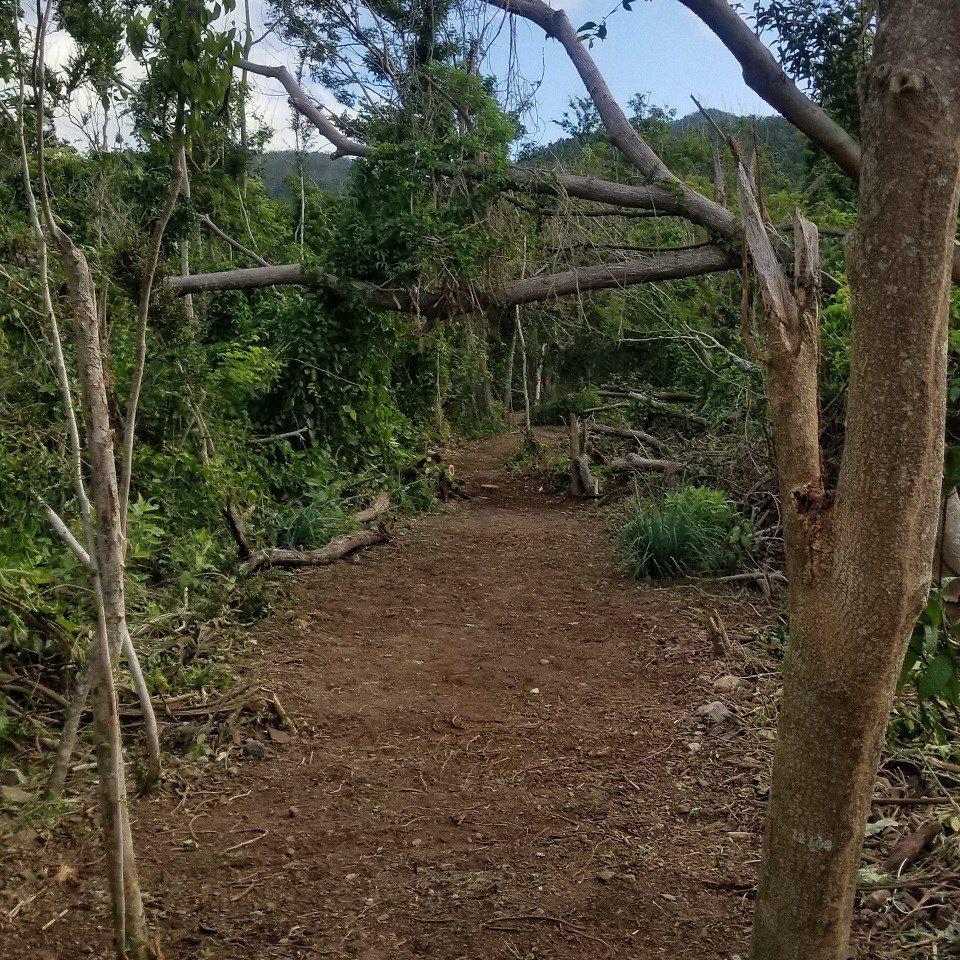 Left image
Clearing a section of Reef Bay Trail Post Irma
Credit: Eric Wood
Right image
A section of Reef Bay Trail after final clearing.
Credit: Eric Wood
Great Smoky Mountains National Park trail crew has been coming down annually since 2016 to rehabilitate the Reef Bay Trail. They come for just a few months at a time but accomplish a great deal.

This year involved a herculean task of clearing and rehabilitating the trail following the two devastating storms in 2017. Irma, a category 5 hurricane, hit the island hard with 224 mile an hour winds. These extreme winds tore through the forests, ripping up entire trees and snapping others like toothpicks. The day following Irma there was not a leaf or flower left on the island and entire sections of forest had been laid flat.

Irma was followed by another category 5 hurricane, Maria. Luckily for St. John Maria did not have the winds that Irma had, but she brought torrential rains flooding roads trails, homes and more. Entire roads as well as trails were washed out.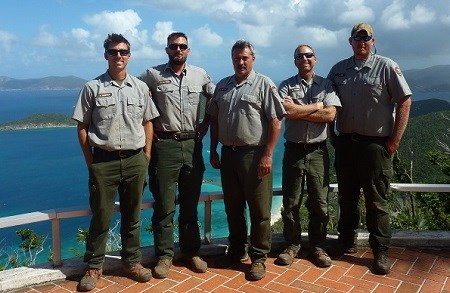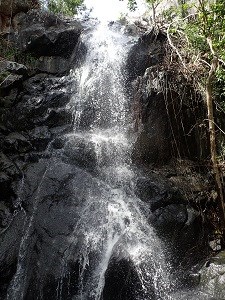 The Reef Bay Trail was hard hit. The ghut that runs to the Reef Bay Trail waterfall overflowed washing away many sections of trail. The original clearing following the storms was done by fire crews from across the country who came to dig Virgin Islands National Park and local residents out from the aftermath of the storms.

This year the crew started at the bottom of Reef Bay, which was severely damaged. Several areas of the trail needed to be re-routed and a new trail tread had to be created. From there the crew slowly worked to the top of the trail. Reef Bay is extremely steep and following any storms the mosquitos are ferocious. Working in these extreme tropical elements, the crew still chose to complete all work with hand tools (pulaskis, picks, mcleods, sledgehammers, etc.) and chainsaws.

The trail is now finished. The Smoky Mountains Crew, over a period of 6 weeks, repaired 7,686 ft. of trail in which every foot needed work done in some form or another. In addition all felled trees and debris were cleared from the factory ruins allowing visitor access once again. The trail work was constructed in a sustainable way that should last for the future enjoyment of all park visitors.

Virgin Islands National Park would like to thank Jevin Hoeper, Eric Bohnert, Gerald Mathis, Eric Wood and Joe Lamm for all their hard work!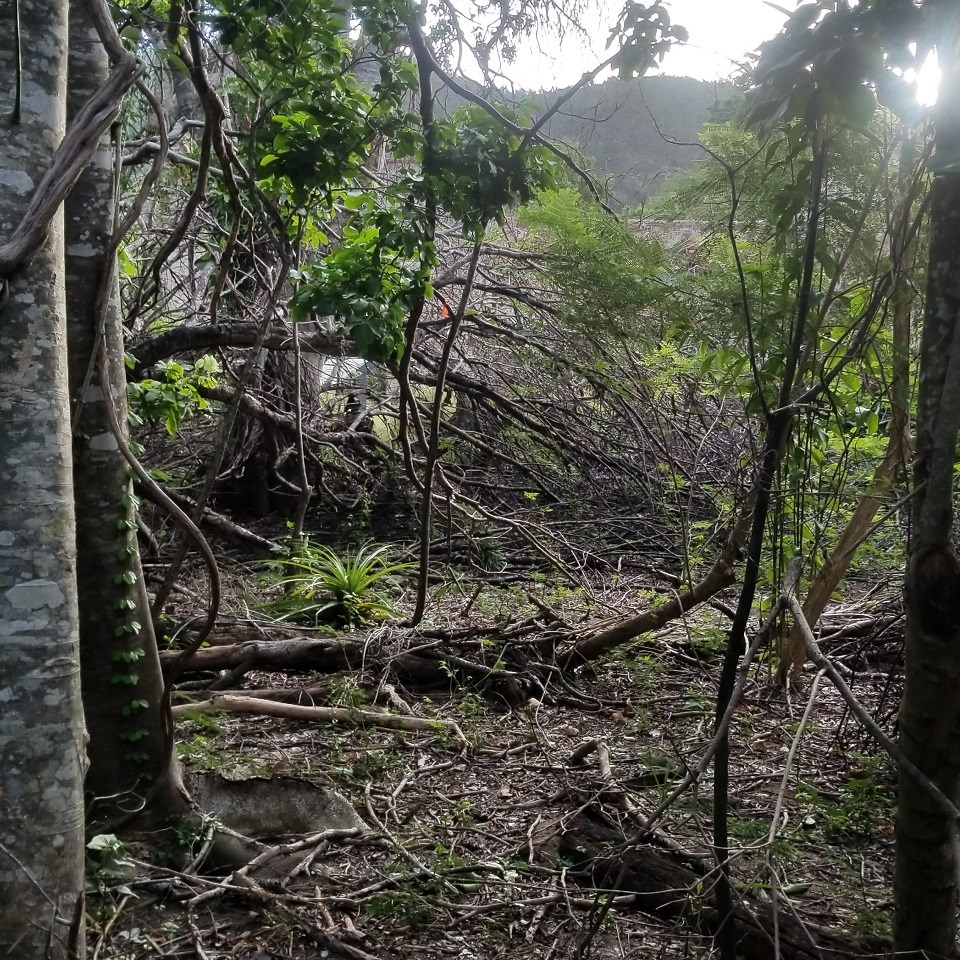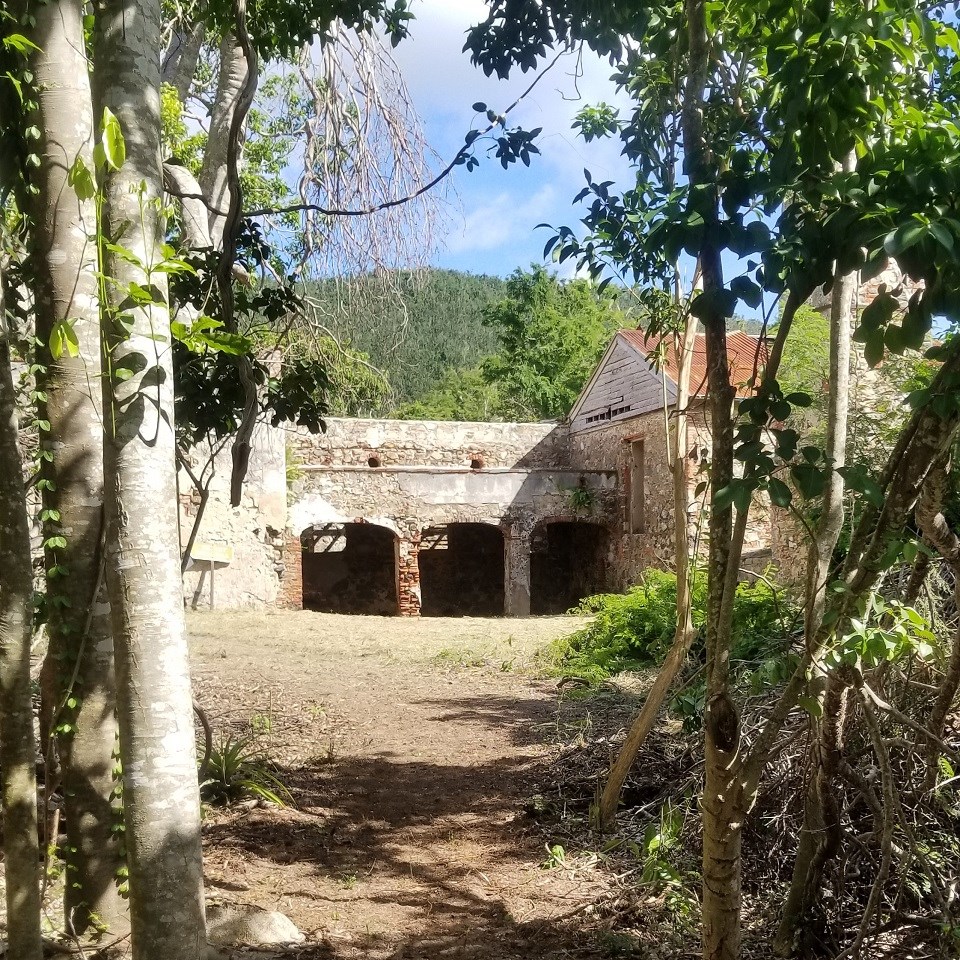 Left image
Reef Bay Factory Post Irma
Credit: Eric Wood
Right image
Reef Bay Factory after final Clearing
Credit: Eric Wood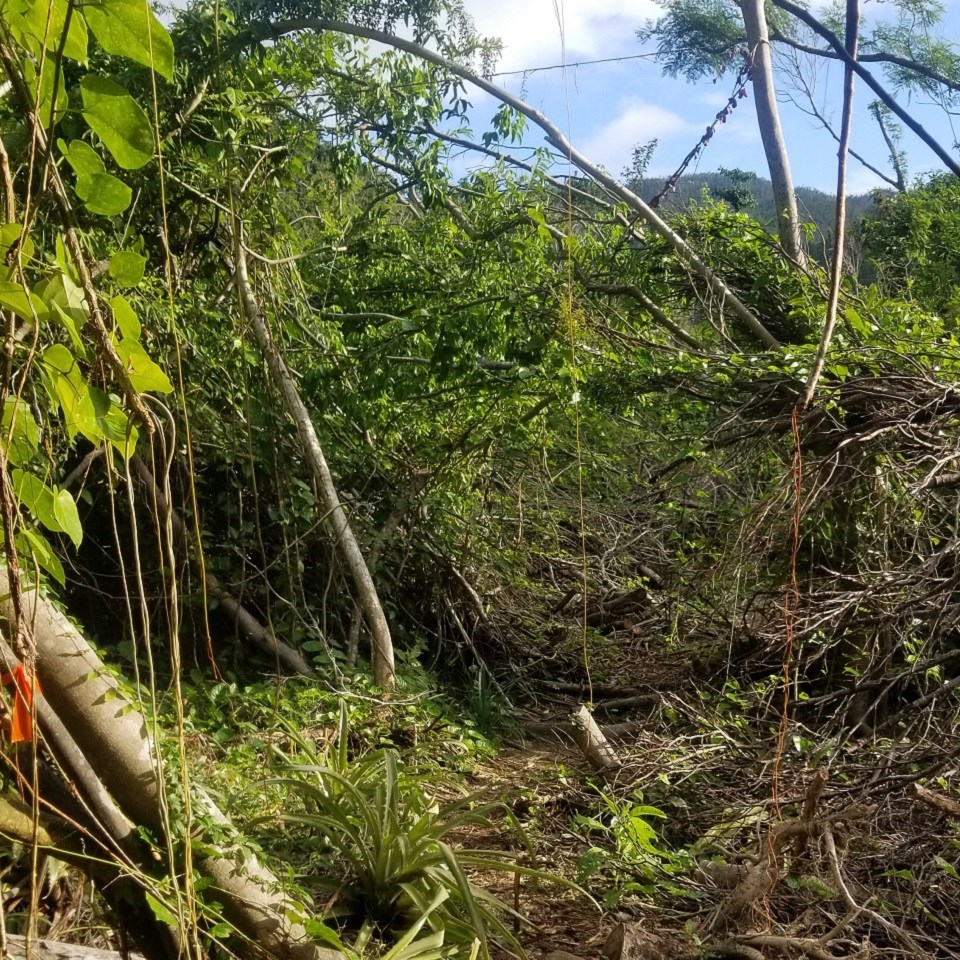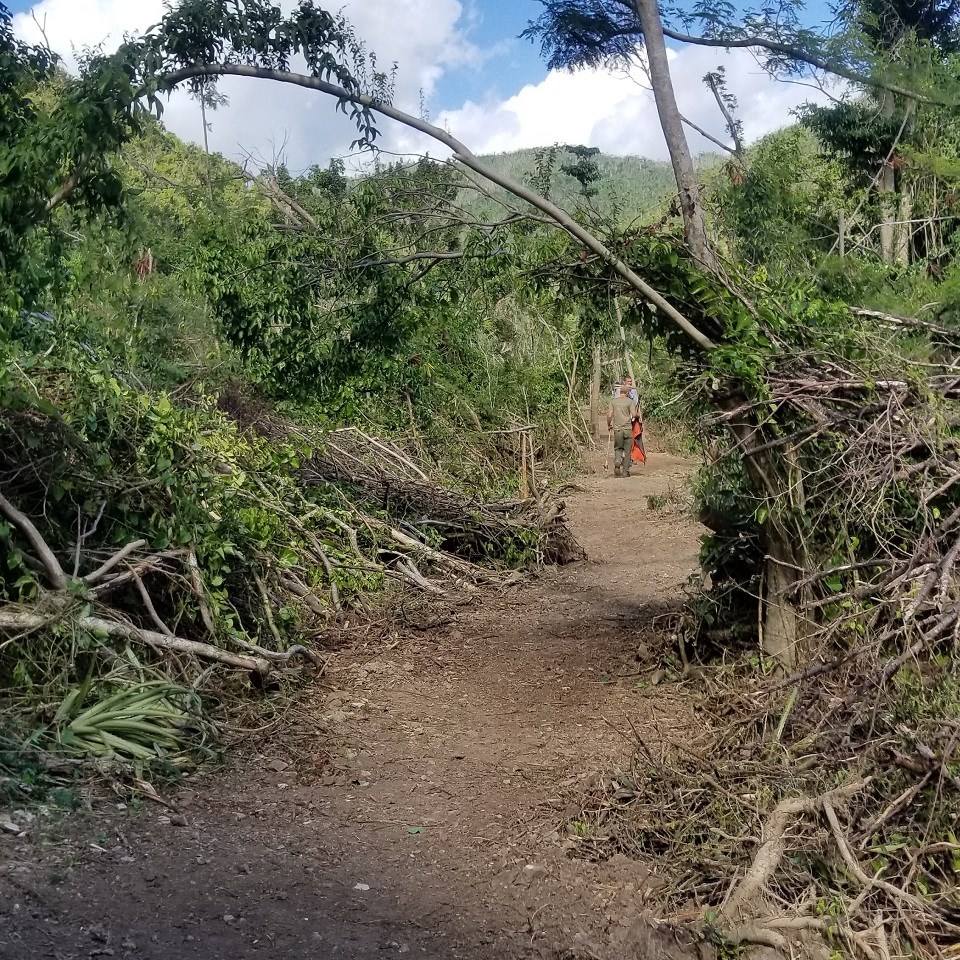 Left image
Clearing the Reef Bay Trail
Credit: Eric Wood
Right image
Trail Cleared
Credit: Eric Wood
Last updated: May 25, 2018