The Ravages of War: Targeting Civilians in the Anglo-American Conflict
By David and Jeanne T. Heidler
Civilians were not insulated from the ravages of the war.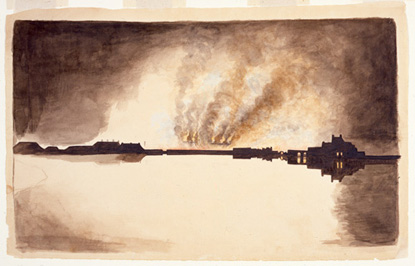 Along the Niagara River and Lake Ontario, raids became rapacious and retaliatory. The British claimed it all began in April 1813 when Brigadier General Zebulon Montgomery Pike led a naval-borne force across Lake Ontario to attack Upper Canada's capital of York (modern Toronto). Pike prohibited wanton destruction and looting, but debris from an exploded powder magazine killed him, and his enraged men turned their anger on the town. What they could not pilfer, they burned. Worse was to come. When Americans abandoned Fort George at the mouth of the Niagara in December 1813, they burned the nearby village of Newark. It was a remarkably cruel deed, leaving the town's civilians without shelter in the dead of winter and forcing them in bitter cold to trek through the deep snow to distant towns. General Sir Gordon Drummond soon avenged Newark with an attack on Fort Niagara in which British soldiers bayoneted Americans as they were surrendering.
The British rampaged all along the Niagara, burning Buffalo, Lewiston, and Black Rock, and provoking retaliation in kind from Americans into the spring of 1814. The result was a desolate landscape of burned-out farms and deserted villages. Citing these incidents, the British justified pitiless war elsewhere. Their raiding tactics in Chesapeake Bay in 1813 and 1814 and the torching of Washington's public buildings in August 1814, including the Capitol and Executive Mansion, were supposed to even the score for York and Newark. But the raid on the capital was of little strategic importance, and world opinion frowned on what seemed an act of petulant vandalism.
Last updated: November 10, 2017