"If we are to have a Navy, we must make officers to manage that Navy."
In tracing the reasons for the exceptional performance of the US Navy during the War of 1812, we might look to the 1798-1800 Quasi War with France.
"If we are to have a Navy, we must make officers to manage that Navy." Captain Thomas Truxtun to James McHenry, March 3, 1797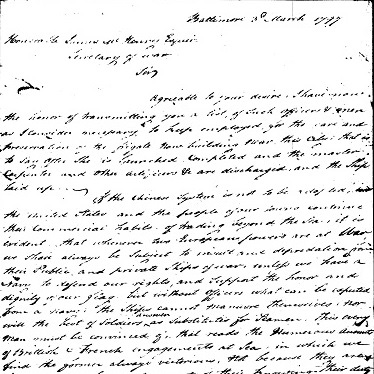 When the Federalists decided to pursue a more pro-British foreign policy through ratification of the Jay Treaty, France, an ally since the Revolutionary War became furious, refusing to receive the U.S. minister and seizing hundreds of neutral American merchant vessels.
Some wanted to mobilize the army in response, but President John Adams was skeptical about the likelihood of a French land invasion, proclaiming "at present there is no more prospect of seeing a French Army here than there is in heaven." Instead, in the hopes of achieving a diplomatic settlement to this undeclared and limited conflict known as the Quasi War, Adams turned to the promising young American navy.
The navy acquitted itself well. Part of its success in these early years can be attributed to the leadership and influence of senior leaders such as Captain Thomas Truxtun.  A highly successful commander in the Continental Navy during the Revolutionary War, during the 1790s Truxtun commanded and oversaw the construction of the frigate Constellation.  During the Quasi War, he and his crew captured the French frigate L'Insurgente –scoring America's first naval victory.
A gifted student of the his profession, Truxtun authored works ranging from navy regulations, to signaling and celestial navigation.  One of Truxtun's most significant contributions to the early U.S. Navy was his insistence on stricter standards of selection, professionalism and discipline in the officer corps, beginning with entry-level midshipmen.  
Truxtun's influence as an institution builder bore fruit, for it was during the Quasi War that a remarkable cadre of young officers- Stephen Decatur, Oliver Hazard Perry, Thomas McDonough, and Isaac Hull - would cut their teeth in battle, emerging over a decade later as the seasoned leadership of the U.S. Navy in the War of 1812.
Last updated: May 25, 2016