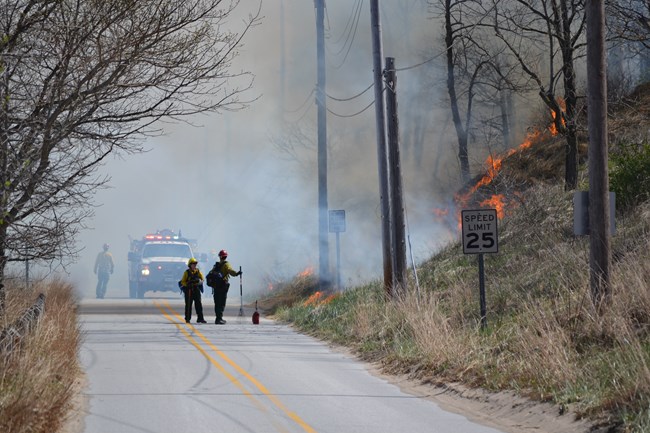 Indiana Dunes National Lakeshore is home to the Century of Progress homes from the 1933 Chicago World's Fair. Situated near the Lake Michigan coast in Beverly Shores, these 5 homes were transported to Beverly Shores to hopefully to entice buyers to the "new resort community" in 1935.
Situated among the oak trees and dune grasses of the Indiana Dunes National Lakeshore places these unique structures in the middle of a Wildland Urban Interface area. That creates a special situation in protecting these structures which are on the National Register of Historic Places.
For the last several years the area immediately south of the Century of Progress homes has been burned in a series of prescribed fires in order to reduce the amount of vegetation in the area should a wildfire occur. In the spring of 2017 Indiana Dunes National Lakeshore Fire Management staff conducted the Dune Ridge Prescribed Fire. This prescribed fire skirted the Century of Progress homes and reduced the threat of a wildfire in the area.
Since 2001, the volunteer fire department of Beverly Shores has been the recipient of training and fire equipment to help protect their citizens as well as properties of the Indiana Dunes National Lakeshore. The National Park Service and Beverly Shores jointly protect some of the most visited beach areas of southern Lake Michigan.
In the late spring and early summer of 2017 Beverly Shores firefighters and Indiana Dunes National Lakeshore fire staff were jointly dispatched to three separate fires in the dune grass in the immediate vicinity of the Century of Progress homes. A good working relationship between the firefighters allowed the to organizations to quickly and swiftly respond to the fires and keep them small thus reducing the threat of fire to these historic structures.
During the late summer and fall of 2017 fire management staff conducted additional fuels reduction and thinning projects around several of the structures to prevent future fires from causing damage to them. These thinning projects included the use of mechanical equipment, handheld trimmers and chainsaws to create defensible space around several of the historic structures. The debris collected during the hazard fuels reduction was then burned in order to completely remove the hazard fuels.
The combination of prescribed fire treatments, hazardous fuel reduction by mechanical means and appropriate proactive collaborative work by multiple agencies has preserved and protected the unique structures of The Indiana Dunes National Lakeshore Century of Progress District and the surrounding community of Beverly Shores.