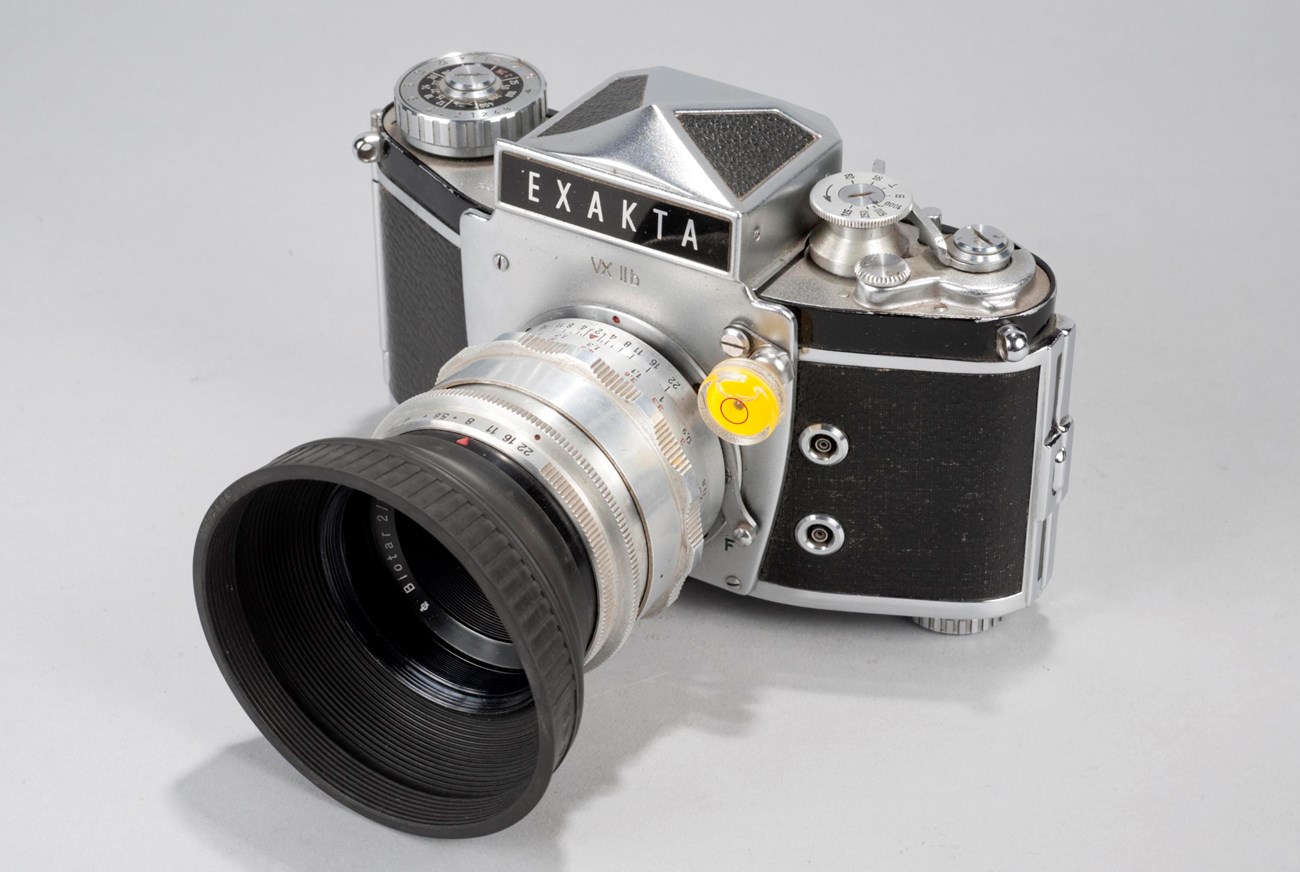 Proenneke's Camera at Twin Lakes
This was one of Richard Proenneke's cameras during his time at Twin Lakes. It's an Exakta VX IIb, a camera that was manufactured in Germany and produced between 1963-1967. Proenneke loved taking moving images and still photos of scenery and the wildlife around him; this camera was always with him—it traveled all over the same country he did—he had it the entire time he was at Twin Lakes.

"July 21, 1967
Today will be known as the day of the golden sunrise. The rising sun was painting the fast moving fleecy clouds with gold when I looked out this morning. Hardly waiting to dress I dragged out my cameras and went to work. A time lapse with the movie and later stills with the Exakta. Both up country and down –it was a beautiful sight to see. I went down to my cabin for the view down country. It was after six befor[e] I had my hotcakes, bacon & eggs."
Proenneke became well known for documenting the building of his cabin and the beauty of his surroundings. In 1974, when the National Park Service was looking into areas that could potentially become new National Park units, they contracted with Proenneke to take moving images and still photos of the Twin Lakes area. Proenneke was happy—he could continue to do what he was doing anyway and get paid for it. The NPS was happy—they could learn about this corner of Alaska. Although this passage from 1974 speaks of moving images he shot, not of photos he shot with his Exakta, his sentiment of what he considers important is wonderful:

"June 5, 1974
I beached the canoe and packed my gear to the cabin in a light rain. There was chores I could do but I just had to sit and watch the breakup that comes only once each year and this was more spectacular than some. I finished out that roll of 16 mm. That made a little over a hundred feet of the ice alone. Moving ice could hardly be classified as wildlife specified by the Park Service in their contract. To me everything is wildlife inthe wilderness. Showers came and went, clouds and fog patches changed positions on the mts. My bear was up in the clouds."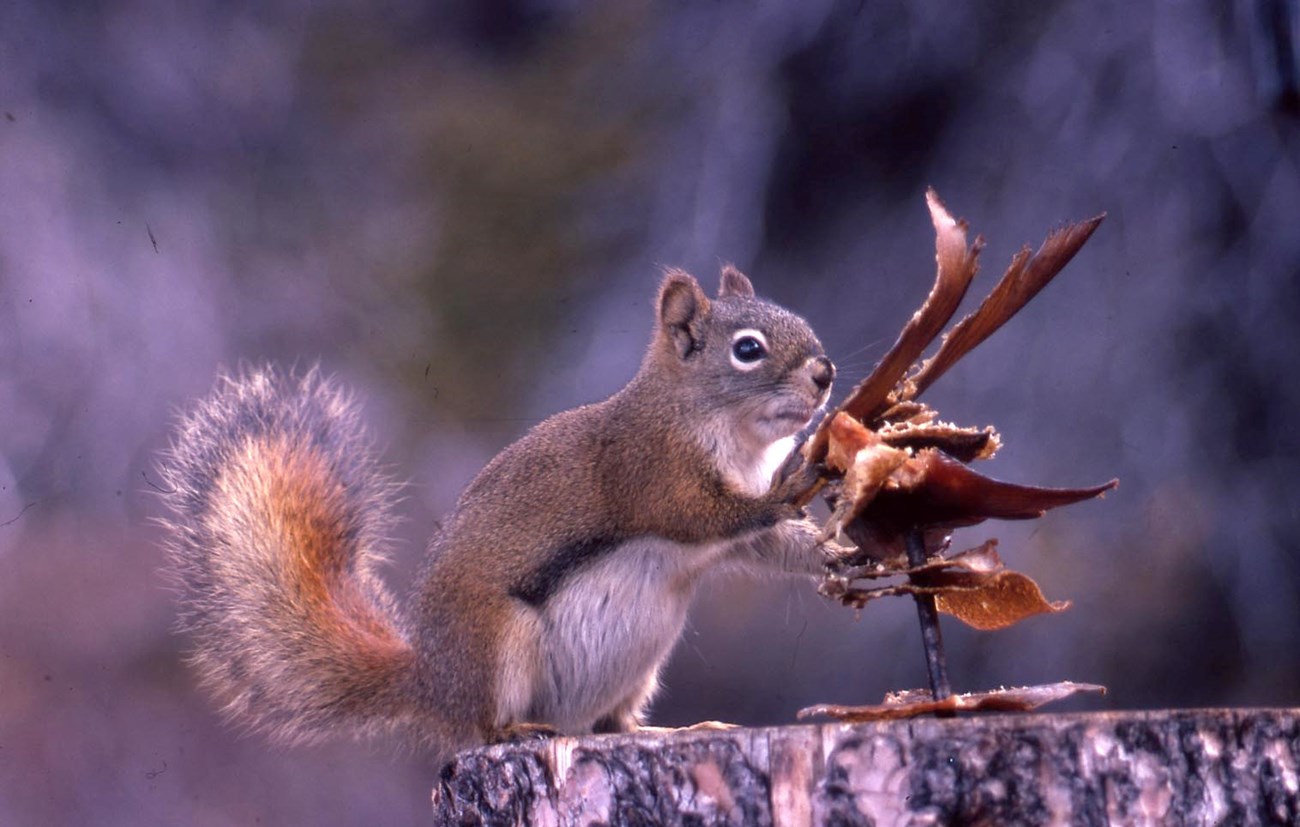 Sharing the Beauty of Wilderness
The NPS took notice and were exceedingly pleased with the photos Proenneke took. Bob Waldrop, an NPS employee told Proenneke in a letter: "Everyone is extremely happy with the footage you shot –the best any of us has seen." In 1975, plans were made to use Proenneke's film footage, still photos, and journal writings to produce a NPS-produced short film. Proenneke loved the idea. Bringing the wilderness to people was a wonderful idea to him. The resulting film was 1977's "One Man's Alaska." To quote Proenneke:

"Jan. 26, 1978
Put a small crew in here to film it in color year around. Edit the film and show it on TV spring, summer, fall and winter. Many times more people would see it and under the best of conditions. They would see much wildlife that they will never see if they come here. Weather can even prevent them from hiking for a week at a time. Millions of people could enjoy the beauty of the wilderness and it and its wildlife would be left untouched. Very few families could afford to visit the Park anyway if they must fly and weather for flying is very uncertain. To come any other way would take days. Let them enjoy the wilderness while enjoying a glass of beer in their own living room."
Of course, he kept shooting photos and movies for himself as well as for the NPS. Living alone in the wilderness, he ran into difficulties with his Exakta. But he was exceedingly handy, so they didn't slow him down for long.

"Sept. 17, 1968
My Exakta 35 has been jingling in the penta prism view finder. It sounded as if something had broken and was floating around. Four small screws removed and the cover. A short chunk of metal angle had come unstuck from the top of the prism. A drop of epoxy fixed that. All my lenses cleaned and ready for fair weather."
Proenneke's photos, as well as his book, moving images, and correspondence, have contributed to environmental awareness for thousands of people and have allowed many thousand more to gain appreciation and understanding of what this part of Alaska is all about. This camera, a constant companion of Proenneke's, was generously donated to Lake Clark's museum collection in 2009 by Richard's brother Raymond. It is among the most iconic items in our collection.