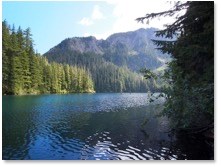 Introduction
Introduced fish species are common in freshwater ecosystems and may cause major ecological changes. Effects of diminutive species, such as freshwater sculpin, on the ecosystem may be largely unknown because they can be difficult to identify and are not a recreationally- or commercially-valuable species. Introduction of freshwater sculpins outside of their native range has occurred but the effects of these introductions are largely unknown. Prickly sculpin (Cottus asper) has been introduced in some mountain lakes of the upper Nisqually River basin including Lake George in Mount Rainier National Park. Because prickly sculpin are large (≥ 230 mm total length) relative to other sculpin species, they have the potential to consume a broader range of prey and therefore impact native fauna in non-native habitats. Prickly sculpin is common in lacustrine, estuarine, and riverine habitats in lowlands of the Pacific Northwest. Generally, they occupy lower elevations than other freshwater sculpin species.

Because most mountain lakes were historically fishless, native fauna may be especially vulnerable to predation by introduced fish. Sharp reductions of amphibian populations in mountain lakes of western United States are believed to be caused by fish introductions. Fish introductions have resulted in changes in nutrient cycles and primary production. Additionally, benthic macroinvertebrate and zooplankton communities appear to be restructured following fish introductions.

The objectives of this study were to document that prickly sculpin are still present in Lake George and collect some basic ecological information on this population and other populations in the upper Nisqually River basin. Additionally, we compared the diet, age, and behavior of the introduced mountain populations to native populations in two lowland lakes.